Research article

Open Access

Open Peer Review
This article has Open Peer Review reports available.
Cost-of-illness studies in heart failure: a systematic review 2004–2016
BMC Cardiovascular Disorders
2018
18:74
Received: 5 November 2017
Accepted: 20 April 2018
Published: 2 May 2018
Abstract
Background
Heart failure is a major and growing medical and economic problem worldwide as 1–2% of the healthcare budget are spent for heart failure. The prevalence of heart failure has increased over the past decades and it is expected that there will be further raise due to the higher proportion of elderly in the western societies. In this context cost-of-illness studies can significantly contribute to a better understanding of the drivers and problems which lead to the increasing costs in heart failure.
The aim of this study was to perform a systematic review of published cost-of-illness studies related to heart failure to highlight the increasing cost impact of heart failure.
Methods
A systematic review was conducted from 2004 to 2016 to identify cost-of-illness studies related to heart failure, searching PubMed (Medline), Cochrane, Science Direct (Embase), Scopus and CRD York Database.
Results
Of the total of 16 studies identified, 11 studies reported prevalence-based estimates, 2 studies focused on incidence-based data and 3 articles presented both types of cost data. A large variation concerning cost components and estimates can be noted. Only three studies estimated indirect costs. Most of the included studies have shown that the costs for hospital admission are the most expensive cost element. Estimates for annual prevalence-based costs for heart failure patients range from $868 for South Korea to $25,532 for Germany. The lifetime costs for heart failure patients have been estimated to $126.819 per patient.
Conclusions
Our review highlights the considerable and growing economic burden of heart failure on the health care systems. The cost-of-illness studies included in this review show large variations in methodology used and the cost results vary consequently. High quality data from cost-of-illness studies with a robust methodology applied can inform policy makers about the major cost drivers of heart failure and can be used as the basis of further economic evaluations.
Keywords
Heart failureCost-of-illnessEconomic burdenHeart disease
Background
The burden of heart failure
Heart failure (HF) is a major and growing medical and economic problem, with high prevalence and incidence rates worldwide [1, 2]. HF is defined as a pathophysiological state in which an abnormality of cardiac function is responsible for the failure of the heart to pump blood at a rate commensurate with the requirements of the metabolizing tissues [3]. It has been estimated that 0.4–2.2% of the population in industrialized countries suffer from HF [4], with between 500,000–600,000 incident cases diagnosed each year [5]. HF affects especially the elderly, with 80% of HF-related hospitalizations and 90% of HF-related deaths occurring among patients aged 65 years or older [6]. The prevalence of HF has increased over the past decades [7]. It is expected that there will be a further rise due to a higher proportion of elderly people and better survival rates of patients with conditions such as hypertension, diabetes, etc., which trigger the development of HF [7, 8]. In addition, two thirds of the patients are readmitted to hospital within one year [9]. The mortality rate for patients with HF is high, as showed in the MAGGIC meta-analysis includes individual data on 39,372 patients with 40,2% died during a median follow-up of 2,5 years [10]. A recently published study demonstrated that the 30-day readmission rates for HF are higher than for pneumonia or acute myocardial infarction [11].
Due to the high and increasing prevalence rates, HF constitutes an enormous economic burden for the healthcare systems in industrialized countries. For example, Europa and USA spent 1–2% of their annual healthcare budget on HF [6]. The global economic burden of HF is estimated at $108 billons per annum, with $65 billons attributed to direct and $43 billons to indirect costs [12]. The US is the biggest contributor to the global HF costs and is responsible for 28.4% of total global HF spend [12]. Europa accounts for 6.83% of total global HF costs [12].
Due to the considerable cost impact of HF on healthcare systems, it is necessary to have a better understanding of the cost aspects and the specific cost drivers. In this context, Cost-of-Illness (COI) studies are an important tool to analyze the economic burden of HF and to provide information on the cost drivers to clinicians and health policy makers. On the basis of transparent and detailed cost components this is aimed at improving the planning and development of healthcare services and optimization of the allocation of healthcare expenditures and medical resources [13]. COI studies are often restricted to a certain country, deal with small patient groups or present only a part of all illness costs. Therefore, it is important to summarize the results of different COI-studies in a systematic way.
Background on cost-of-illness studies
COI studies estimate the resources consumed and lost as a result of a particular disease. Results from the COI studies can improve understanding of the economic burden that a specific disease may have on society as whole, healthcare providers, and the individual patient. COI studies can also provide a fundamental basis for further economic evaluations, such as cost-effectiveness-, cost-utility- and cost-benefit analysis [14].
Perspective
COI studies can be conducted from various perspectives. Based on the chosen perspective, the cost estimation can vary. The most popular perspectives are the societal perspective and the viewpoints of the patient, the insurance company or the healthcare providers.
Epidemiological approach
COI studies follow two different epidemiological approaches, either the prevalence- or the incidence-based approach. Prevalence-based studies measure costs, which occur with prevalent cases over a specified time period, usually 1 year [15].
The incidence-based approach focusses on lifetime costs attributed to a disease. The costs are measured from the onset of a disease [15].
Method of resource quantification
COI studies use two different methods to estimate costs. The bottom-up approach ("person-based") assigns costs to individuals with the health condition of interest, for example by using data from real cases [15]. The top-down method ("population-based") allocates parts of aggregated costs to specific diseases.
Objectives
The aim of this study was to perform a systematic review of recently published COI studies related to HF to highlight the increasing cost impact associated with this disease and identify the major cost drivers.
Methods
We conducted a systematic literature search for journal articles between 2004 and 2016 in the following databases: PubMed (Medline), Cochrane, Science Direct (Embase), Scopus and CRD (Centre for Reviews and Dissemination) York Database incl. National Health Service Economics Evaluation Database (NHS EED). To identify relevant COI-studies for HF, appropriate disease-related MeSH terms were used (Additional file 1). The references or citations of the retrieved articles were reviewed for additional articles (citation snowballing). The search methodology was in line with the PRISMA (Preferred Reporting Items for Systematic Reviews and Meta-Analyses) guidelines [16] except for the use of the PICOS (population, intervention, comparators, outcomes, study design) review system.
Inclusion and exclusion criteria
Search results were transferred to EndNote, version X7, and reviewed independently by two researchers. The inclusion and exclusion criteria were adopted from the CHEC list [17] and the BMJ guidelines for authors and peer reviewers of economic submissions [18]. Although the two checklists were developed for the assessment of economic evaluations, we derived criteria that are also relevant for the evaluation of cost-of-illness studies. These criteria are listed in the appendix (Additional file 2). Furthermore they were in accordance with the check list for COI evaluation in the guide to critical evaluation of COI studies developed by Larg et al. [15].
HF can be categorized in two entities, systolic HF and diastolic HF. Systolic heart failure is defined as the entity in which the ejection fraction is reduced. In diastolic HF the ejection fraction is preserved. Owan et al. has shown that 53% of patients suffer from systolic and 47% from diastolic heart failure [19]. As our aim was to analyze all entities of HF independently of the pathophysiologic mechanism, we excluded papers dealing only with systolic/diastolic HF.
General characteristics of the studies
To provide a comprehensive understanding, the included studies were analyzed in terms of country, epidemiological approach (prevalent vs. incident), study period, perspective (societal, healthcare provider, etc.), main data sources and the identification of HF patients. When the study perspective or the epidemiological approach were not clearly specified in the studies, two investigators achieved consensus by discussion.
Standardization of costs
The reported costs in the included studies were transferred from the local currency in the year of the costs to the inflated values in local currency for the year 2016 [20]. This cost data was exchanged to US-dollars by using the gross domestic product purchasing power parity (PPP) [21]. This methodology can be used for COI studies in order to reach better comparability between the different currencies [22].
Results
The search procedure is shown in the PRISMA Flow Diagram (Fig.
1
: Data acquisition flowchart). The systematic literature search identified 17,329 potential relevant articles. After removing 9166 duplicates, there were 8163 studies, which were screened by title and abstract. 8068 papers were excluded because they did not deal with COI studies of HF. Of the remaining 95 articles, another 79 studies did not fulfill the inclusion criteria shown in the Appendix. In all, 16 articles were identified in this review and analyzed by their study characteristics and cost data.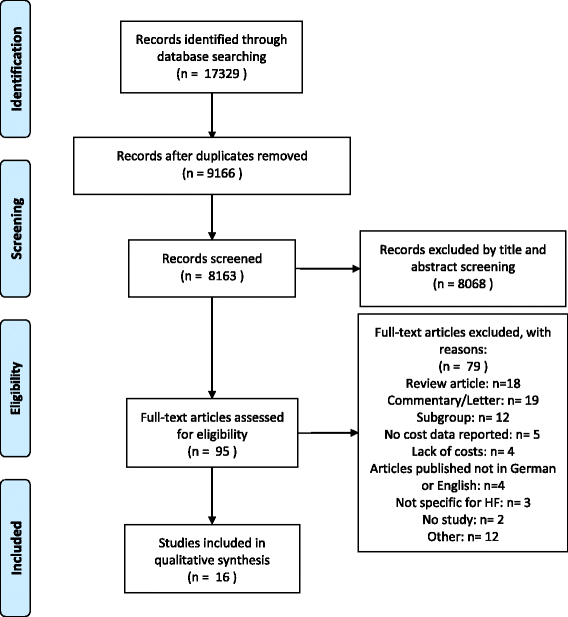 Discussion
Our systematic review highlights the economic impact of HF as a rising burden for high-income countries. Furthermore, it also uncovers the large heterogeneity of COI studies focused on HF.
Comparison of the cost data
The main findings of our review are reported in Table 4 and are focused on the highest annual per-patient costs reported for the USA [24] and Germany [30]. Our review shows that the costs for hospital admission contribute significantly to the overall direct costs for HF (ranging from 44 to 96%). Previously published studies accounted that about two-thirds of the direct HF healthcare costs are due to hospitalization [6, 39]. The high inpatient costs are a result of high readmission rates, with 23% of HF patients readmitted to hospital stay within 6 months [6]. A further aspect of our analyses is the considerable increase in costs with advanced NYHA stage, with NYHA stage IV being the most expensive. Biermann et al. [5] estimated similar results for patients with systolic HF. An earlier review [40] estimated that patients with NYHA IV produce between 8 and 30 times higher healthcare costs than patients with NYHA II. We have shown that costs rise rapidly after a confirmed HF diagnosis (Table 7). Although HF is a chronic condition causing high lifetime costs, particularly the first year after a HF diagnosis and the end-of-life care are the most expensive ones. Two studies from the USA [41] and Canada [42] analyzed the last 180 days of life of HF patients and concluded that in the last six months of life, there is a large increase in costs and resource use. Unroe et al. [41] as well as Kaul et al. [42] analyzed that the costs during the last 180 days rose from $28,766 to $36,215 between the years 2000–2007 for the USA [41] and from $25,069 to $27,983 (Canadian dollars) between the years 2000–2006 for Canada [42].
Other studies also report a rise in costs relating to HF over time, but especially in the last two decades. Stewart et al. [39] reported a rise of direct medical costs from £716 million in 1995 to £905 million in 2000 for the UK. Liao et al. [6] presented an increase of HF-related costs for different countries (Spain, Canada, Sweden and Scotland) by 40–71%.
The need for standards for future COI-studies in HF
Our review highlighted not only the large economic burden of HF, but also the heterogeneity of the studies and lack of cost data. For better comparison of research data, future COI studies should use a standardized approach regarding methodology, in particular regarding criteria concerning the selection of HF patients and data, the inclusion of different cost drivers and the presentation of results.
Thus, further COI studies in HF should clearly state the ICD codes, which were used for identification of HF patients. Additionally, an attribution of cost data to the specific ICD code number could achieve a better comparison between COI studies. As presented in recently published papers, using different ICD codes may lead to an over- or underestimation of HF diagnosis [43, 44].
COI studies should present cost data for the whole HF group and disaggregate them consistently for sub-entities, as systolic or diastolic HF. Importantly, COI studies should emphasize clearly stating the use of the exact diagnoses (including relevant ICD codes). It should be clearly stated, if HF is defined as the primary or secondary diagnosis, as this difference influences the cost estimates. The inclusion of comorbidities would give detailed information on the cost drivers and show opportunities for decreasing costs.
In addition, the study perspective and a distinction between COI approaches should be indicated [18]. This review emphasizes that indirect costs are a significant contributor to total costs and more effort is needed to estimate these costs accurately and consistently. In addition, informal care costs are an important contributor to the COI of HF [37].
As there are many differences between healthcare systems in different countries, high-quality cost data is needed from COI studies to facilitate comparisons between countries and cost trends. Crucially, more robust data from future COI studies is needed to provide a sound basis for cost-effectiveness studies to identify the most cost-effective therapies.
Another aspect in our systematic review highlights that most of the studies are conducted in Europe and USA. But as HF is a global problem, we need more COI-studies from low-and middle-income countries as demanded in a recently published study [45].
Study limitations
The cost data we included in our systematic review derived from a heterogeneous set of studies with different methodologies used, to collect the data. This lack of a standard method for collecting the cost data may impact some of our findings. The included studies were conducted in different countries with various healthcare systems. This may lead to an over- or underestimation of some cost data, as the included studies not clearly describe, which costs are included in their analyses. For example, some studies present the costs in a detailed way, whereas other studies aggregate particular costs to one cost position.
Conclusion
Our review highlights the considerable and growing economic burden of HF on the health care systems of industrialized countries. The trend for rising costs has especially been more significant during the last 20 years and future demographic developments predict more dramatic rises in the future. Due to the high economic burden of HF -especially in terms of inpatient costs- we need more compelling and innovative strategies to counteract the effects of HF. Reducing admission rates in acute HF is the most promising approach to decrease the economic burden of HF. In this context telemonitoring devices like a wireless pulmonary artery pressure monitoring system are promising new innovations [46–48]. As reported in a recently published study [49] this device has the potential to reduce the hospitalization rates for symptomatic HF by 37% and to lead to a significant cost reduction. The COI studies included in this review showed large variations in methodology used and the cost results vary as a consequence. Future COI studies would greatly benefit from a detailed presentation of cost components. Our review shows that there is a lack on cost data and further research is needed to highlight the economic burden of indirect costs of HF. High quality data from COI studies with a robust methodology applied can inform policy makers about the major cost drivers of HF and can be used as the basis of further economic evaluations.
Abbreviations
COI:

Cost-of-Illness
HF:

Heart failure
NYHA:

New York Heart Association
Declarations
Acknowledgements
The present work was performed in fulfillment of the requirements for obtaining the degree "Dr. med." for author Wladimir Lesyuk at the Medical Faculty of Friedrich-Alexander-University Erlangen-Nürnberg.
Funding
This project was funded by the German Federal Ministry of Education Research (BMBF) as part of the National Cluster of Excellence "Medical Technologies – Medical Vallex EMN" (Project grant No. 13EX1013B).
Availability of data and materials
All data generated or analysed during this study are included in this published article and its supplementary information files.
Authors' contributions
WL collected, analysed and interpreted the data. He was also a major contributor in writing the manuscript. CK checked the data results. PK supervised and corrected the work. All authors read and approved the final manuscript.
Ethics approval and consent to participate
Not applicable.
Competing interests
The authors declare that they have no competing interests.
Publisher's Note
Springer Nature remains neutral with regard to jurisdictional claims in published maps and institutional affiliations.
Open AccessThis article is distributed under the terms of the Creative Commons Attribution 4.0 International License (http://creativecommons.org/licenses/by/4.0/), which permits unrestricted use, distribution, and reproduction in any medium, provided you give appropriate credit to the original author(s) and the source, provide a link to the Creative Commons license, and indicate if changes were made. The Creative Commons Public Domain Dedication waiver (http://creativecommons.org/publicdomain/zero/1.0/) applies to the data made available in this article, unless otherwise stated.
Authors' Affiliations
(1)
Centre for Health Technology Assessment (HTA) and Public Health (IZPH), Friedrich-Alexander-University Erlangen-Nürnberg, Erlangen, Germany
(2)
National Leading-Edge Cluster Medical Technologies 'Medical Valley EMN', Erlangen, Germany