Review
Open Access
Open Peer Review
This article has Open Peer Review reports available.
Endothelial cell control of thrombosis
BMC Cardiovascular Disorders
2015
15:130
Received: 11 May 2015
Accepted: 9 October 2015
Published: 19 October 2015
Abstract
Hemostasis encompasses a set of tightly regulated processes that govern blood clotting, platelet activation, and vascular repair. Upon vascular injury, the hemostatic system initiates a series of vascular events and activates extravascular receptors that act in concert to seal off the damage. Blood clotting is subsequently attenuated by a plethora of inhibitors that prevent excessive clot formation and eventual thrombosis. The endothelium which resides at the interface between the blood and surrounding tissues, serves an integral role in the hemostatic system. Depending on specific tissue needs and local stresses, endothelial cells are capable of evoking either antithrombotic or prothrombotic events. Healthy endothelial cells express antiplatelet and anticoagulant agents that prevent platelet aggregation and fibrin formation, respectively. In the face of endothelial dysfunction, endothelial cells trigger fibrin formation, as well as platelet adhesion and aggregation. Finally, endothelial cells release pro-fibrinolytic agents that initiate fibrinolysis to degrade the clot. Taken together, a functional endothelium is essential to maintain hemostasis and prevent thrombosis. Thus, a greater understanding into the role of the endothelium can provide new avenues for exploration and novel therapies for the management of thromboembolisms.
Keywords
Endothelial cellsThrombosisBlood coagulation
Background
The endothelium has been described as a cellophane type barrier that separates the blood from the surrounding tissue. Although the endothelium is less than 0.2 μm thick, it is comprised of 1 to 6 × 1013 endothelial cells with a total surface area of 4000–7000 m2 and weighing approximately 1 kg in an average-sized human [1]. Instead of playing merely a passive role, the endothelium is better described as a dynamic organ that regulates its environment and responds to external stresses. Some of the functions of the endothelium include regulating vascular tone, cellular adhesion, smooth muscle cell proliferation, and vessel wall inflammation. In addition, the endothelium serves as a hemocompatible lining that helps to maintain blood flow and regulate the blood coagulation system. Upon vascular injury, cellular and protein materials congregate at the site of injury to create a stable blood clot, which prevents excessive blood loss. The significance of appropriate blood coagulation control is apparent during the development of thrombosis. Thrombosis is the formation of an occlusive clot within a blood vessel that reduces blood flow to distal tissue and organs and restricts the delivery of nutrients and oxygen, resulting in localized tissue and organ necrosis. Large occlusive clots (thrombi) can break off and embolize to form secondary thrombi in distal locations. The process of thrombosis followed by embolism is collectively termed, thromboembolism and can culminate in a variety of local or chronic disorders. For example, acute arterial thrombosis is triggered upon the rupture of an atherosclerotic plaque, and is the predominant cause of myocardial infarctions (heart attacks) and strokes [2]. Similarly, venous thromboembolism can be triggered by disturbed blood flow, hypercoagulable conditions, such as procoagulant changes in the blood, or endothelial activation, and is the major cause of deep vein thrombosis and pulmonary embolism [2, 3]. Since the endothelium is located at the nexus of hemostasis and thrombosis, a clear understanding of how endothelial-derived molecules contribute to hemostasis and thrombosis is vital for the identification of potential therapeutic targets and design of novel therapies for acute thrombosis.
General functions of the endothelium
Endothelial cells have a myriad of functions that are specific to their location; they exhibit considerable phenotypic heterogeneity across different species and possess features that are distinct to each vascular bed [4, 5]. The main function of the endothelium is to regulate systemic blood flow and tissue perfusion through changes in vessel diameter and vascular tone, performed in conjunction with underlying smooth muscle cells and pericytes. In addition to regulating systemic blood flow, the endothelium acts as a barrier that selectively controls the movement of fluid, ions and other macromolecules between the circulating blood and surrounding tissues by coordinating the interendothelial adherens and tight junction complexes [6]. While serving as a selective barrier, the endothelium also regulates the recruitment and extravasation of pro-inflammatory leukocytes in response to tissue damage and infection through expression of cell adhesion molecules and cytokines [7, 8]. Endothelial cells have a critical role in the healing process after wounding or inflammation. They act as the vector of angiogenesis, the formation of new blood vessels, which is essential for proper formation of granulation tissue and tissue repair as well as for re-canalization of mural and obstructing fibrin clots. Finally, the luminal surface of the endothelium expresses a plethora of molecules that regulate the activation of platelets and the coagulation cascade, thereby maintaining blood flow and preventing thrombus formation after vessel injury [9, 10].
Vessel- and tissue-specific functions of endothelial cells
Endothelial cells line the vessel walls of arteries, veins, and microvessels. The local shear stress, blood oxygenation, and smooth muscle cell content vary between these vessels and consequently the endothelial cells in the various vascular beds respond differentially to procoagulant signaling. Endothelial cells are dynamic and adapt their phenotype according to the nature of the local milieu [11, 12]. For example, vascular shear stress can influence the coagulant potential of endothelial cells. Arterial shear stress can induce the transcription factors Kruppel Like Factor (KLF) 2 and KLF 4 and attenuate coagulation in atherosclerosis-poor regions, but has no effect in atherosclerosis-prone areas with disturbed blood flow [13, 14]. Likewise, reduced venous shear stress can induce hypoxia and stimulate the release of P-selectin and von Willebrand factor from endothelial cells. The nature of the shear stress also has a significant influence on the type of thrombi that forms. Arterial clots form under high shear stress after atherosclerotic plaque rupture and are rich in platelets, giving the appearance of a white clot. In contrast, venous thrombi develop under low shear stress and are rich in fibrin and red blood cells, giving the appearance of a red clot. Venous thrombosis is particularly prevalent in the lower limbs, due to a variety of circumstances, including disturbed flow or local hypoxia. Of note, venous thrombi are exceptionally prone to embolism due to high availability of the fibrinolysis regulator, tissue-type plasminogen activator (t-PA) in the venous system. Microvascular endothelial cells within arteries and veins have distinctive features [15]. Surface receptors, such as thrombomodulin, while abundantly present in many types of endothelial cells, are poorly expressed or absent in brain microvascular and liver sinusoidal endothelial cells [16]. Microvascular endothelial cells also possess extensive phenotypic heterogeneity depending on their location [17]. Finally, the location of the endothelial cells also plays a role in the endothelial response. For example, pulmonary endothelial cells experience rapid changes in pressure from low-pressure, high-volume during gas exchange to high-pressure, low volume bronchial circulation during oxygen delivery to the bronchial tree. Moreover, pulmonary capillary endothelial cells are exposed to the highest level of oxygen compared with other vascular beds in the body. Taken together, although there are a wide variety of endothelial cells, they are similar in that they are all capable of evoking an array of responses that is based on cues provided by the local environment.
The blood coagulation system
In the face of vascular injury, a chain reaction of pro-inflammatory and wound-healing responses is rapidly triggered. As part of the wound-healing response, a stable blood clot, consisting of aggregated platelets and a mesh of cross-linked fibrin protein, is formed to prevent excessive blood loss [18]. Traditionally, blood coagulation is described as occurring in two phases, primary and secondary hemostasis, wherein platelets first aggregate to form the initial platelet plug followed by activation of the coagulation system to form the fibrin clot. Depictions of blood coagulation have evolved significantly and now showcase the complex interplay between platelets, the coagulation system, and vessel wall to clot formation. This intricate network can be described as the cell-based model of coagulation. In short, blood coagulation is categorized into three phases: initiation, amplification, and propagation. Initiation occurs upon vascular injury with resultant activation of the endothelium, consisting of activated endothelial cells, and exposure to sub-endothelial cells that include amongst others smooth muscle cells and fibroblasts. Sub-endothelial collagen is exposed to the blood and mediates the initial adhesion of circulating platelets to the exposed collagen surface via von Willebrand factor. The platelet aggregate that forms is responsible for stopping blood loss. In parallel to these events, activated endothelial cells and smooth muscle cells express the potent pro-coagulant molecule, tissue factor (TF), which binds with circulating coagulation factor (f) VII. TF acts as a cofactor for fVII to promote the proteolysis and activation of fVII to become active fVII (fVIIa), wherein TF also binds with fVIIa to form the TF/fVIIa complex. The TF/fVIIa complex then goes on to proteolytically cleave fIX and fX into fIXa and fXa, respectively. FIXa serves to generate more fXa and fXa serves to generate thrombin. In the amplification phase, circulating platelets that have adhered to the site of injury become activated by thrombin and form a platelet aggregate. This provides a surface for the activation of other procoagulant factors. Concomitantly, thrombin proteolytically cleaves platelet-derived fV and circulating fVIII into fVa and fVIIIa, respectively. In addition, thrombin converts fXI into fXIa, which promotes further fIXa generation. In the final propagation phase, thrombin generation is amplified on the surfaces of activated platelets. FVa binds with fXa to form the prothrombinase complex, whereas fVIIIa binds with fIXa to form the intrinsic tenase complex. The prothrombinase and intrinsic tenase complexes serve to enhance the activities of fXa and fIXa, generating sufficient quantities of thrombin to produce large amounts of insoluble fibrin. In this phase, thrombin also cleaves fXIII into fXIIIa, which covalently cross-links fibrin chains to form a large fibrin mesh. Taken together, the platelet aggregate and cross-linked fibrin forms a stable clot, which seals off the site of injury and prevents excessive blood loss.
Since the blood coagulation system is a potent, highly effective process, tight regulation of the blood coagulation system is essential to prevent unnecessary clot formation [
18
]. Any perturbations of the regulatory pathways can accordingly culminate in thrombosis. Coagulation proteases and molecules can be inhibited by either direct inhibition of protease activity or through degradation of coagulation factors. First, circulating protease inhibitors, such as antithrombin, heparin cofactor II, tissue factor pathway inhibitor (TFPI), and C1 inhibitor, bind with the active site of proteases and prohibit the protease from cleaving its target. Table
1
indicates the respective targets for these inhibitors. Second, coagulation factors can be degraded through activation of the protein C/protein S pathway, activation of a disintegrin and metalloproteinase with a thrombospondin type 1 motif member 13 (ADAMTS13), or activation of tissue-type plasminogen activator (t-PA). The protein C/protein S pathway inactivates fVa and fVIIIa and is catalyzed by the presence of thrombomodulin and endothelial protein C receptor (EPCR). ADAMTS13 is a matrix metalloproteinase that cleaves the multimeric strands of von Willebrand factor, disrupting platelet adhesion. t-PA contributes to the final dissolution of the fibrin-mesh by triggering fibrinolysis through the conversion of plasminogen to plasmin. Collectively, these individual events come together to ensure that the blood coagulation system is highly regulated. As a result of its location, the endothelium plays an essential role in the development of a clot. Figure
1
illustrates the contribution of the endothelium to blood coagulation. The following sections provide an in-depth review of some of the key components of the blood coagulation system that originate from the endothelium.
Table 1
Targets of coagulation inhibitors
| Inhibitor | Principal target(s) |
| --- | --- |
| Antithrombin | Thrombin, fXa, fIXa, fXIa, fXIIa |
| TFPI | fXa, TF/fVIIa |
| Heparin cofactor II | Thrombin |
| C1 inhibitor | fXIa, fXIIa, kallikrein |
| Protein C pathway | Thrombin |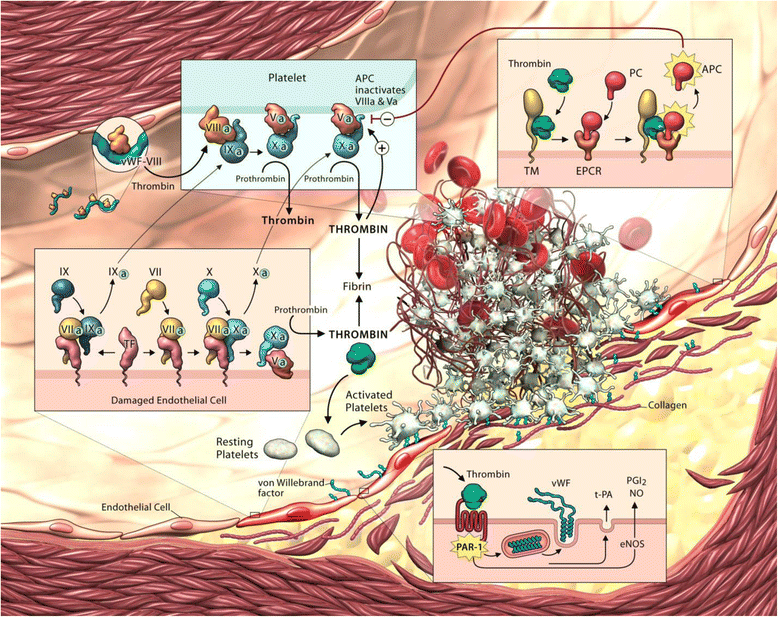 Conclusions
The endothelium is a dynamic lining that regulates the complex interplay of the coagulation system with the surrounding cells and tissues. When stressed beyond a certain threshold, the quiescent endothelium initiates numerous mechanisms to induce clotting (e.g. by expression of TF and fVIII) and anticoagulation (e.g. by expression of thrombomodulin, EPCR, and PAR-type receptors) (Table
2
). Concomitantly, activated endothelial cells recruits platelets to the site of injury (e.g. by expression of VWF), where it serves as a support surface for formation of pro-coagulant complexes and platelet aggregation. The biochemical processes described above highlight the critical contributions of multiple endothelial molecules in hemostasis and thrombosis, thereby underscoring the central role of the endothelium in these processes.
Table 2
Endothelial products in coagulation
Protein/Receptor

Function

PAR

Induces release of nitric oxide and prostacyclin I2, activation of Weibel-Palade bodies, and expression of TF

TF

Triggers the production of thrombin through activation of fX when in complex with fVIIa

fVIII/fVIIIa

Amplifies the production of thrombin when in complex with fIXa

VWF

Tethers platelets to collagen via glycoprotein VI on platelets

Stabilizes fVIII in plasma

TFPI

Inhibits the activity of the TF/fVIIa complex and fXa

Thrombomodulin

Eliminates the activity of thrombin when in complex

Induces the activation of the protein C pathway

EPCR

Catalyzes conversion of Protein C to activated Protein C

t-PA

Triggers fibrinolysis by converting plasminogen to plasmin
Abbreviations
APC:

Activated protein C
EPCR:

Endothelial protein C receptor
f:

Factor
KLF:

Kruppel like factor
PAR:

Protease-activated receptor
TF:

Tissue factor
TFPI:

Tissue factor pathway inhibitor
t-PA:

Tissue-type plasminogen activator
ULVWF:

Ultra-large VWF multimers
VWF:

Von Willebrand factor
Declarations
Acknowledgements
We would like to thank Ms. Gail Rudavich for the composite illustration. This work was supported in part by the Canadian Institutes of Health Research (FRN 140815) to JWY and research grants from the Heart & Stroke Foundation of Canada to SV. JWY is the recipient of the EOCI-St. Michael's Hospital Scholarship Award in Cardiometabolic Disease and Atherothrombosis. SV is the Canada Research Chair in Atherosclerosis at the University of Toronto.
Open AccessThis article is distributed under the terms of the Creative Commons Attribution 4.0 International License (http://creativecommons.org/licenses/by/4.0/), which permits unrestricted use, distribution, and reproduction in any medium, provided you give appropriate credit to the original author(s) and the source, provide a link to the Creative Commons license, and indicate if changes were made. The Creative Commons Public Domain Dedication waiver (http://creativecommons.org/publicdomain/zero/1.0/) applies to the data made available in this article, unless otherwise stated.
Authors' Affiliations
(1)
Division of Cardiac Surgery, St. Michael's Hospital, Toronto, Canada
(2)
Divisions of Endocrinology & Metabolism, Keenan Research Centre for Biomedical Science at St. Michael's Hospital, Toronto, Canada
(3)
Department of Surgery, University of Toronto, Toronto, Canada