Research article

Open Access

Open Peer Review
This article has Open Peer Review reports available.
Choice of generic antihypertensive drugs for the primary prevention of cardiovascular disease - A cost-effectiveness analysis
BMC Cardiovascular Disorders
2012
12:26
Received: 27 June 2011
Accepted: 4 April 2012
Published: 4 April 2012
Abstract
Background
Hypertension is one of the leading causes of cardiovascular disease (CVD). A range of antihypertensive drugs exists, and their prices vary widely mainly due to patent rights. The objective of this study was to explore the cost-effectiveness of different generic antihypertensive drugs as first, second and third choice for primary prevention of cardiovascular disease.
Methods
We used the Norwegian Cardiovascular Disease model (NorCaD) to simulate the cardiovascular life of patients from hypertension without symptoms until they were all dead or 100 years old. The risk of CVD events and costs were based on recent Norwegian sources.
Results
In single-drug treatment, all antihypertensives are cost-effective compared to no drug treatment. In the base-case analysis, the first, second and third choice of antihypertensive were calcium channel blocker, thiazide and angiotensin-converting enzyme inhibitor. However the sensitivity and scenario analyses indicated considerable uncertainty in that angiotensin receptor blockers as well as, angiotensin-converting enzyme inhibitors, beta blockers and thiazides could be the most cost-effective antihypertensive drugs.
Conclusions
Generic antihypertensives are cost-effective in a wide range of risk groups. There is considerable uncertainty, however, regarding which drug is the most cost-effective.
Keywords
Calcium Channel BlockerAntihypertensive DrugThiazideAngiotensin Receptor BlockerAfrican American Patient
Background
Hypertension is a major risk factor for cardiovascular disease (CVD) such as acute myocardial infarction (AMI), stroke, heart failure and death. WHO has estimated that hypertension alone accounts for 4.4% of all disability adjusted life years that are lost [1]. An array of randomized controlled trials (RCTs) has demonstrated that antihypertensive drugs can reduce the risk of CVD. This is the case for thiazides, beta blockers, calcium channel blockers (CCB), angiotensin receptor blockers (ARB) and angiotensin-converting-enzyme inhibitors (ACE) [2]. Still, there is uncertainty and even controversy related to the intervention thresholds and the choice of first-line drug and "add-on" drugs. The controversy is partly related to the price of the different drugs, and partly to disagreements about how the available evidence on effectiveness, and side-effects of the various drugs should be interpreted [3, 4].
The prices of the different antihypertensives vary, and price alone is only one factor which should be taken into account when considering which drugs that should be reimbursed. Several countries, including Norway, have chosen to use economic evaluation (cost-effectiveness analysis) for reimbursement decisions and development of guidelines. This implies that health authorities issue guidelines for choice of drugs and may even deny reimbursement of drugs that are too expensive in relation to the effectiveness. For example, the National Institute of Health and Clinical Excellence (NICE) in the UK may recommend against reimbursement of drugs when the cost per quality adjusted life year (QALY) exceeds £30,000 [5]. The argument for such thresholds is simply that if the costs of gaining a life year are beyond £30,000, resources may generate more health if they were spent elsewhere in the health care system. Cost-effectiveness analyses have been widely used for some types of therapies such as cholesterol lowering drugs. For antihypertensive therapies, however, relatively few studies have been published, especially during the last five years [6]. It is therefore a paucity of updated studies of the cost-effectiveness of such therapies.
A recent project funded by Norwegian health authorities offered a basis for developing guidelines for choice of antihypertensive drugs. The project first involved a comprehensive literature review and subsequent meta-analyses [2], and secondly, the development of a simulation model (Norwegian Cardiovascular Disease model (NorCaD)) [7] for economic evaluation. The aim of this study was to explore the life-time cost-effectiveness of various generic antihypertensive drugs in order to propose first-line therapy of hypertension and later add-ons for patients who need more than one drug. The scope of the project was restricted to primary prevention of CVD events. We assumed that patients first are offered dietary and other life style advice in order to achieve an acceptable blood pressure and that drugs are only prescribed when treatment goals are not reached with non-pharmacologic measures. We chose to use life years gained as the measure of health benefit because relatively few clinical trials report quality of life endpoints. We adopted a health care perspective which means that the analyses capture all costs that are incurred to the health care system.
Results
Sensitivity and scenarios
We performed probabilistic sensitivity analysis on the comparison of single drugs for 70 year old men. These analyses indicate substantial uncertainty with respect to which drug is the most cost-effective (Figure
3
). No single drug was more than 50% likely to be the most cost-effective antihypertensive, regardless of what society is willing to pay for a life year gained. We also performed probabilistic sensitivity analysis on the choice of combination treatment of two or three drugs in 70 year old men (Figures
4
and
5
). In Figure
5
, there is a 72% probability that thiazide, CCB and ACE inhibitors are the most cost-effective combination of three drugs at a WTP of €62,000.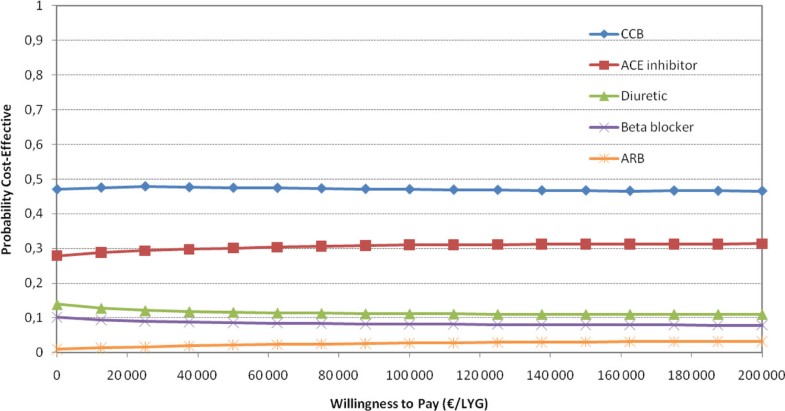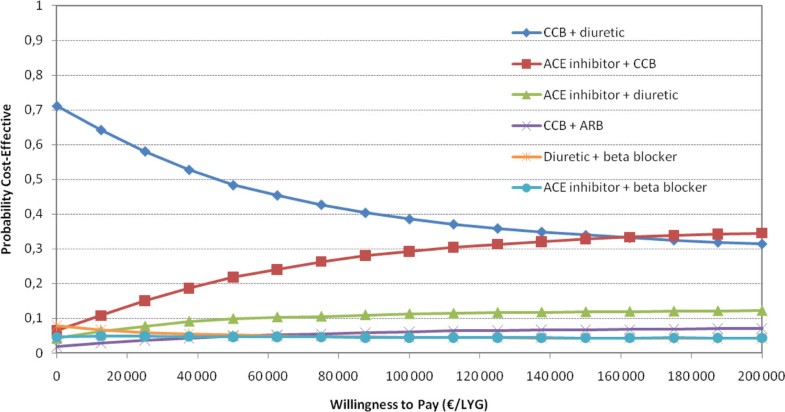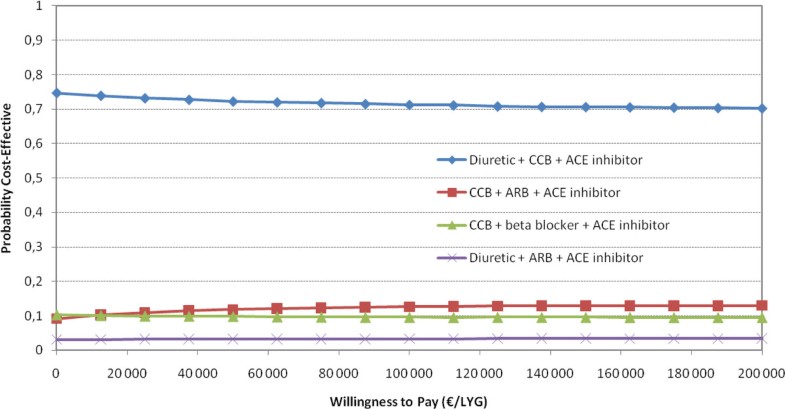 When African Americans from the ALLHAT study were included in meta-analyses, the conclusions were basically the same as when they were not (results not shown).
When we included heart failure and angina in the model, ARB was more likely than CCB to be the most cost-effective first-line treatment for hypertension (36% and 24% respectively)(data not shown). With angina and heart failure included, the choice of first add-on treatment was also more uncertain, even though a combination of either CCB, ARB or diuretics seemed most likely. In analyses of the combination of three drugs; all combinations seems almost equally likely of being the most cost-effective alternative if this more comprehensive model is used (results not shown).
Discussion
For 40, 50, 60 and 70 year old men and women, generic CCB, thiazide, ACE inhibitor, ARB and beta blocker are all cost-effective and even cost-saving antihypertensives, even when two or all three are used in combination when this is indicated. CCB seems to be the most cost-effective alternative and consequently the first-line drug. If patients do not reach the treatment targets on CCB, thiazide is the most cost-effective add-on treatment. The sensitivity analyses, however, indicate considerable uncertainty in the ranking, and other factors such as side effects may well dictate the choice in the clinical setting.
The modelling showed lower incremental health benefit in younger than in older age groups. This may seem counterintuitive. To test this result, we performed validating analyses without discounting (Figure 2). From these, we concluded that the reason for the counterintuitive results is discounting. When the model was run without discounting, the incremental benefits are greater in younger age groups. Discounting decreases life years gained more in younger than in older age groups. Because benefits from antihypertensives in terms of life years gained occur at a late stage in life, discounting leads to lower incremental health benefit in the younger compared to the older age groups.
We used a 4% discount rate throughout this study, because this is currently recommended in Norwegian guidelines. We are aware, however, of the ongoing discussion regarding whether costs and/or effect should be discounted, and at what percentage [48, 49]. If no discounting were applied, the age effects would be reversed in the sense that the ICERs would be more favourable for the young than the older age groups (Figure 2). If only costs were discounted, the difference in cost-effectiveness between age groups would be relatively small (Figure 2).
The estimated life year gains from taking CCB for the remainder of the lifetime compared to no antihypertensives is close to 0.5 (undiscounted). This may seem to be a small number when being 50 years old and expecting about 30 more years to live. Two points are worth mentioning, however. First, the 0.5 year is an average, and some patients may gain much more while others have no benefit. Some patients may die from other causes such as cancer or accidents and have no benefit from the antihypertensive treatment. Others may avoid a fatal stroke in their 60's and live until 80 because they started using antihypertensive drugs in their 50's. Second, 0.5 year is a considerable benefit in a public health perspective.
Models may be constructed in several different ways, and structural differences between them may in some cases result in considerably different results and alter the conclusions. Inclusion of heart failure and angina in the model made the results much more uncertain because the efficacy data are not consistent for these outcomes.
We have not identified other cost-effectiveness analyses of all these antihypertensives. However the UK guidelines from 2011 [50], which are based on similar efficacy documentation as our analyses, propose ACE inhibitor, CCB or possibly a low-cost ARB as the first choice. These guidelines also suggest that that a combination of CCB and either ARB or ACE inhibitor is the recommended combination of two drugs. If three drugs are to be combined, a thiazide-like diuretic is to be combined with the two-drug combination. These recommendations seem to fit well with our results.
Our analyses are based on meta-analyses from a recent systematic review [2]. The results are not very different from other meta-analyses [51, 52]. Hence we assume that our results would not be substantially different if they were based on other meta-analyses of antihypertensive drug trials.
In our estimates of lifetime costs (e.g. Table 5), costs include consumption of all modelled resources. Hence, it is not possible to read drug prices directly from the undiscounted column of this table due to the complexity of NorCaD. This advantage with NorCaD helps avoid jumping to conclusions that the cheapest drug is the most cost-effective if no statistically significant evidence is available. For instance would a small decrease in rates of myocardial infarction more than outweigh a small increase in acquisition costs of a cheap generic drug.
Strengths and limitations
The NorCaD model is comprehensive in the sense that it captures more CVD events and health states than most previous models. It is also a strength that the model is based on country-specific data for some of the crucial input parameters. The NorCaD model is designed primarily for primary prevention strategies for cardiovascular disease, and is therefore useful not only for statins and other pharmaceutical interventions, but also non-pharmaceutical interventions such as dietary advice and exercise.
While several previously published models have estimated the risk of CVD events on the basis of risk equations (typically the Framingham risk equations), we used observed incidence rates in the population and adjusted these rates up or down depending on the presence or absence of risk factors. The advantage of this approach is first that we avoid bias introduced by uncertainties in risk equations, and second that we avoid uncertainties introduced by distance in time or distance in geography. Our approach, however, is not without problems. Most important in this context is that we use register data for incidence rates, and there may be limitations in the quality of these registers and there may be inconsistencies between the registries.
The validation process proved that the input to the model need to be somewhat adjusted to fit Norwegian mortality data. This is a limitation of the model, which might be more consistent if it were based on fewer data sources, such as Framingham data. However, we considered the use of old data from the US likely to generate more bias.
Most of the trials that form our evidence base had duration of less than five years [2]. The life year gain generated through five years of treatment however is modest (usually less than 10% of the total gain). For the time beyond five years, we lack solid empirical data and simply assume that the relative effect stays constant. The assumption of "continued benefit" [53] is not necessarily true, and may overestimate the effect of treatment.
We have not incorporated side effects into our model, mainly because we use life years gained as measure of effectiveness and then possible fatal side effects will be captured in the clinical trials. The costs of side effects, however, may not be captured. Thiazide for example may have diabetogenic effect. Hence, thiazide may have a smaller effect and higher costs over time than what is assumed in our analyses. Some side effects may also have positive impact, such as the diuretic effect of thiazides. Whether incorporation of side effects would change the results of these analyses is uncertain, however. It should be noted, however, that side effects in terms of mortality is captured in the model because we used intention-to-treat data from trials. Such side effects are only omitted from the model if they occur after end of the trials.
As mentioned in the methods section, we assumed a multiplicative relationship when modelling combination treatment. Cohort studies have demonstrated an exponential relationship between blood pressure and CVD mortality. Thus one may argue that the risk reduction is proportional to the reduction in blood pressure. If one assumes that one drug results in a given reduction in blood pressure, independent of level, a combination of drugs will result in a multiplicative relationship. Even though some combination trials have been undertaken [2, 54], these are too few to represent a basis for evaluating all clinical relevant combination therapies. Hence, the results with respect to combination therapy are more uncertain than those based with single drug comparisons.
The idea of a model is mimicking real life. All models are however to some extent a simplification of the clinical setting. In this model we chose not to include combinations of health states, such as for instance heart failure and stroke. In addition, we did not include all possible cardiovascular events, such as intermittent claudication. These simplifications would influence results to some extent, but we regarded the possible gain in accuracy to not be worth the hassle. This was mainly due to the fact that trustworthy data on occurrence and progression for these patients would be difficult to obtain.
Conclusions
CCB, ARB, thiazide, ACE inhibitor and beta blocker all represent cost-effective antihypertensives either alone or in combination. Based on our findings, new clinical practice guidelines for antihypertensive treatment may do well in recommending more than one drug class as first choice.
Declarations
Acknowledgements
We are grateful to Sverre Kjeldsen, Janicke Igland, Thomas Hansen, Birgitte Svegaard Dillan and Ulf Stenestrand for providing data and/or comments to the model and analyses.
Authors' Affiliations
(1)
Institute of Health and Society, University of Oslo, Oslo, Norway
(2)
Norwegian Knowledge Centre for the Health Services, Oslo, Norway
(3)
Norwegian Institute of Public Health, Oslo, Norway
(4)
Department of Cardiology, Oslo University Hospital, Oslo, Norway
(5)
University of Bergen, Bergen, Norway
Copyright
© Wisløff et al; licensee BioMed Central Ltd. 2012
This article is published under license to BioMed Central Ltd. This is an Open Access article distributed under the terms of the Creative Commons Attribution License (http://creativecommons.org/licenses/by/2.0), which permits unrestricted use, distribution, and reproduction in any medium, provided the original work is properly cited.