Research article
Open Access
Open Peer Review
This article has Open Peer Review reports available.
Understanding heart failure; explaining telehealth – a hermeneutic systematic review
BMC Cardiovascular Disorders
BMC series – open, inclusive and trusted
2017
17:156
Received: 14 March 2017
Accepted: 7 June 2017
Published: 14 June 2017
Abstract
Background
Enthusiasts for telehealth extol its potential for supporting heart failure management. But randomised trials have been slow to recruit and produced conflicting findings; real-world roll-out has been slow. We sought to inform policy by making sense of a complex literature on heart failure and its remote management.
Methods
Through database searching and citation tracking, we identified 7 systematic reviews of systematic reviews, 32 systematic reviews (including 17 meta-analyses and 8 qualitative reviews); six mega-trials and over 60 additional relevant empirical studies and commentaries. We synthesised these using Boell's hermeneutic methodology for systematic review, which emphasises the quest for understanding.
Results
Heart failure is a complex and serious condition with frequent co-morbidity and diverse manifestations including severe tiredness. Patients are often frightened, bewildered, socially isolated and variably able to self-manage. Remote monitoring technologies are many and varied; they create new forms of knowledge and new possibilities for care but require fundamental changes to clinical roles and service models and place substantial burdens on patients, carers and staff. The policy innovation of remote biomarker monitoring enabling timely adjustment of medication, mediated by "activated" patients, is based on a modernist vision of efficient, rational, technology-mediated and guideline-driven ("cold") care. It contrasts with relationship-based ("warm") care valued by some clinicians and by patients who are older, sicker and less technically savvy. Limited uptake of telehealth can be analysed in terms of key tensions: between tidy, "textbook" heart failure and the reality of multiple comorbidities; between basic and intensive telehealth; between activated, well-supported patients and vulnerable, unsupported ones; between "cold" and "warm" telehealth; and between fixed and agile care programmes.
Conclusion
The limited adoption of telehealth for heart failure has complex clinical, professional and institutional causes, which are unlikely to be elucidated by adding more randomised trials of technology-on versus technology-off to an already-crowded literature. An alternative approach is proposed, based on naturalistic study designs, application of social and organisational theory, and co-design of new service models based on socio-technical principles. Conventional systematic reviews (whose goal is synthesising data) can be usefully supplemented by hermeneutic reviews (whose goal is deepening understanding).
Keywords
Heart failureTelehealthSystematic reviewHermeneutic reviewPatient experience
Background
The use of telehealth technology in heart failure management remains controversial, with some clinicians and policymakers strongly enthusiastic [1–4] and others unconvinced or opposed [5–7]. Despite dozens of randomised controlled trials (including several megatrials [8–13]), over 20 systematic reviews and meta-analyses of clinical trials [14–33] and (at last count) 7 systematic reviews of systematic reviews [6, 34–39], as well as studies of cost-effectiveness [21, 40–43], the patient experience [18, 24, 44–47] and service organisation [32, 48–51], there is limited agreement on which outcomes matter; the extent to which telehealth adds benefit over usual care; how best (if at all) to change service models to support telehealth; and whether and in what circumstances telehealth is cost-effective.
In the context of high and rising prevalence of heart failure [52–54] and its unenviable position atop the league table of reasons for hospital readmission [55], recruitment of heart failure patients to clinical trials of telehealth is consistently poor [17, 32, 56–58]; roll-out and scale-up of telehealth services for heart failure in real-world settings is slow [32, 49, 59–63]; and robust business models are lacking [5]. Systematic reviews and meta-analyses have been criticised for major methodological flaws [6, 33, 36, 38, 39, 64, 65] and economic evaluations for their questionable and/or unstated assumptions [42]. The service and regulatory context is under-researched.
In sum, the literature on telehealth in heart failure is a policymaker's nightmare: vast, fragmented, heterogeneous, of variable quality and with no clear answers to the question of what technologies, supported by what service infrastructure, to provide for whom.
In a paper entitled 'What makes an academic paper useful for health policy?', Chris Whitty emphasised that the most useful contribution academics can make to a contested topic area is a succinct and integrative overview incorporating quantitative, qualitative and economic evidence which, above all, makes sense of the field [66]. In this study, we sought to produce a scholarly synthesis of the key questions, theoretical perspectives and empirical findings on the topic of telehealth in heart failure with a view to informing a new empirical study by our own team.
We began with five research questions, which we modified as the study progressed:
1.

What is heart failure and what do we know about its prevalence, diagnosis, prognosis, co-morbidities and management?

2.

What technologies are available to support remote clinical care in heart failure?

3.

How might these technologies improve – or indeed worsen – the organisation, delivery and cost of heart failure services?

4.

How might telehealth technologies and services influence, and be influenced by, the patient's experience of heart failure and his or her capacity to cope with it?

5.

What explains the low uptake of telehealth by patients, staff and organisations – both within and beyond the clinical trial setting?
Study design and setting
The study had two phases: secondary research (hermeneutic systematic review, reported here) and a qualitative case study of telehealth, linked to a randomised controlled trial (to be reported elsewhere). These phases were overlapping; emerging findings from the review fed into the design of the qualitative study and influenced the data analysis.
Method
The study was part of the SCALS (Studies in Co-creating Assisted Living Solutions) Senior Investigator Award to TG from the Wellcome Trust and was also supported by the knowledge translation component of the Oxford Biomedical Research Centre. Governance included 6-monthly meetings of an external steering group with an independent lay chair. Research ethics approval was not needed for the study reported here.
We used an interpretive approach so as to meaningfully synthesise and critique the extensive existing literature. In their introduction to hermeneutic systematic review (shown diagrammatically in Fig.
1
), Boell and Cecez-Kecmanovic observed that
"highly structured approaches [to systematic review] downplay the importance of reading and dialogical interaction between the literature and the researcher; continuing interpretation and questioning; critical assessment and imagination; argument development and writing – all highly intellectual and creative activities, seeking originality rather than replicability"
[
67
].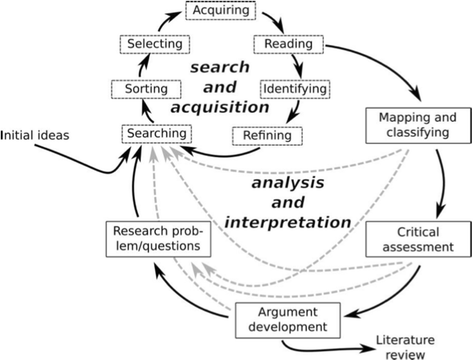 Hermeneutic review consists of two interlinked cycles: [a] accessing and interpreting the literature and [b] developing an argument. Searching is systematic but flexible and iterative. As sources accumulate, it becomes necessary to interpret, clarify and understand the emerging ideas and perspectives and to reject less relevant sources through progressive focusing [67]. This feeds into the lower cycle in Fig. 1.
TG began with a generic PubMed search for 'heart failure' and 'telehealth', including synonyms for both. She quickly identified a sample of highly-cited review articles covering both quantitative and qualitative research [5, 7, 17, 21, 38, 52, 65, 68–70]. She used citation tracking in Google Scholar to identify subsequent articles that had cited these seminal sources [71]. Of hundreds of potentially relevant titles and abstracts, she used one over-riding question to select a sample of papers for full-text analysis: is this paper likely to add meaning to our emerging overview of the field? To prevent the dataset becoming unmanageably large, systematic reviews (and critiques of these reviews) were used as far as possible. Selected individual papers were included to add richness to the synthesis.
CAC (a general practitioner with a special interest in cardiology) selected additional sources describing the current understanding of heart failure, with reference to national and European guidelines, selected conference abstracts and recently published reviews known to her. Peer reviewers selected by the editor pointed us to additional sources.
We stored and managed included studies on an Endnote database. We created a simple data extraction form to summarise key data, arguments and explanations from each source. Beginning with seminal reviews, we began to craft a narrative synthesis of the key questions, theories, methods, findings and scholarly arguments relevant to our research questions. We progressively refined this synthesis as further papers were added.
Results
Included sources are summarised in Table
1
(the hermeneutic design precluded a conventional study flowchart). Findings fell into seven broad headings: heart failure as a clinical condition; heart failure as a lived experience; studies of self-management; descriptions of technologies; experimental trials of telehealth technologies; economic analyses; and implementation studies. We consider these in turn.
Table 1
Summary of included studies in the narrative review
| | |
| --- | --- |
| General background | One textbook [53] plus background sections from other included papers |
| Heart failure as a clinical condition | Above plus 9 narrative reviews [5, 7, 33, 52, 55, 65, 73, 76, 83], 4 cohort studies [72, 82, 84–86], 1 national audit [80], guidance from professional societies [74, 75, 81, 117–119] |
| Heart failure as a lived experience | 8 systematic reviews of qualitative or mixed-method studies [45, 90–95, 97], 5 additional qualitative studies [98–102], one theoretical paper [96], 1 commentary [104] |
| Self-management of heart failure | 4 systematic reviews [18, 24, 44, 45], 2 realist reviews [46, 47], 2 additional qualitative studies [105, 106] |
| Technologies for remote monitoring of heart failure | 3 narrative reviews [64, 65, 68], plus background sections from other included papers |
| Trials of telehealth in heart failure | 7 meta-reviews (systematic reviews of systematic reviews) [6, 34–39], 20 systematic reviews of trials (16 with meta-analysis [14–29] and 4 without [30–33]), 6 M-trials [8–13], plus additional narrative reviews and commentaries, especially [33, 64, 65, 68, 70, 120, 121] |
| Economic analyses | 5 systematic reviews of economic evaluations [21, 40–43] of which one included meta-analysis [41] |
| Implementation studies of telehealth in heart failure | 3 systematic reviews [32, 48, 49], 2 narrative reviews [50, 51], 7 qualitative case studies (in 11 publications) of real-world implementation, including staff and patient experience [58, 60, 61, 87, 89, 101, 110, 111, 113, 114, 122], 3 national/international audits [62, 63, 123], 1 co-design study prior to RCT [112], 1 action research study of real-world implementation [60, 114], plus discussion sections from other included papers especially [5, 7] |
Conclusion
This hermeneutic review has highlighted the clinical complexity of heart failure and its management; its profound physical and psycho-social impacts and the significant treatment burden placed on the patient and family; the benefits and (in older and sicker patients) potential drawbacks of self-management; the wide range of rapidly-evolving technologies and services that come under the umbrella of telehealth; the vast number of experimental trials of telehealth whose findings are ambiguous, interpretations contested and costs highly variable; the many challenges of implementing telehealth in real-world settings; and the widespread (but by no means universal) resistance to telehealth among patients and clinicians.
We have synthesised our findings into a number of key tensions – between tidy, 'textbook' heart failure (seen more often in secondary care) and its messier, comorbid reality (which predominates in primary care); between basic and intensive telehealth; between patients who are activated, empowered and linked to an extensive network of lay carers and those who are bewildered, downtrodden and socially isolated; between "cold" and "warm" telecare; and between fixed and agile programmes of care.
We believe that, despite a number of ongoing, well-designed randomised trials of new technologies and care models, the research landscape in this field has become somewhat stagnant. Our suggestions for new topics of research deliberately seek to address different questions using different methodologies. For primary research, we encourage greater use of theory-informed qualitative methods, especially when considering the implementation of telehealth in organisations, and of co-design methods, action research and agile development of technologies and programmes. For secondary research, we believe hermeneutic review should be used much more widely to illuminate and clarify complex topic areas.
Abbreviations
HFmrEF:

Heart failure with mid-range ejection fraction
HFREF:

Heart failure with reduced ejection fraction
HRPEF:

Heart failure with preserved ejection fraction
ICD:

Implantable cardiac defibrillator
ICER:

Incremental cost-effectiveness ratio
NICE:

National Institute for Health and Clinical Excellence
QALY:

Quality-adjusted life year
Declarations
Acknowledgements
We thank two reviewers for extremely helpful and constructive comments on a previous draft.
Funding
The work was supported by a Senior Investigator Award to TG from the Wellcome Trust (Society and Ethics programme, WT104830MA), and by the National Institute for Health Research Biomedical Research Centre at the University of Oxford (BRC-1215-20,008). This paper was written on a writing retreat at the Rockefeller Centre, Bellagio, Italy, funded by the Rockefeller Foundation.
Availability of data and materials
All data generated or analysed during this study are included in this published article and/or available in academic journals or on public access websites.
Authors' contributions
TG and CAC conceptualised the study. TG undertook the initial search and analysis, and produced the first draft of the paper. CAC checked and extensively revised the synthesis of the clinical literature, and SS did the same for the social science and policy literature. All authors have checked and approved the final version of the paper.
Competing interests
TG and SS declare no conflicts of interest. CAC is the cardiology lead for Oxfordshire Clinical Commissioning Group. All authors have completed the unified competing interest form at http://www.icmje.org/conflicts-of-interest/ (available on request from the corresponding author) and declare (1) no financial support for the submitted work from anyone other than their employer; (2) no financial relationships with commercial entities that might have an interest in the submitted work; (3) no spouses, partners, or children with relationships with commercial entities that might have an interest in the submitted work; and (4) no non-financial interests that may be relevant to the submitted work.
Consent for publication
Not applicable (secondary research).
Ethics approval and consent to participate
Not applicable (secondary research)
Publisher's Note
Springer Nature remains neutral with regard to jurisdictional claims in published maps and institutional affiliations.
Open AccessThis article is distributed under the terms of the Creative Commons Attribution 4.0 International License (http://creativecommons.org/licenses/by/4.0/), which permits unrestricted use, distribution, and reproduction in any medium, provided you give appropriate credit to the original author(s) and the source, provide a link to the Creative Commons license, and indicate if changes were made. The Creative Commons Public Domain Dedication waiver (http://creativecommons.org/publicdomain/zero/1.0/) applies to the data made available in this article, unless otherwise stated.
Authors' Affiliations
(1)
Nuffield Department of Primary Care Health Sciences, University of Oxford, Radcliffe Primary Care Building, Oxford, UK