Research article

Open Access

Open Peer Review
This article has Open Peer Review reports available.
Genomic analysis in patients with myxomatous mitral valve prolapse: current state of knowledge
BMC Cardiovascular Disorders
BMC series – open, inclusive and trusted
2018
18:41
Received: 9 October 2017
Accepted: 22 January 2018
Published: 27 February 2018
Abstract
Background
Myxomatous mitral valve prolapse is a common cardiac abnormality. Morbus Barlow is characterized by excess myxomatous leaflet tissue, bileaflet prolapse or billowing, chordae elongation and annular dilatation with or without calcification. Extensive myxoid degeneration with destruction of the normal three-layered leaflet tissue architecture is observed histologically in such patients. Autosomal dominant inheritance with an age and sex-dependent expression has long been recognised. This review explores the current understanding of the genetics of bileaflet prolapse, with a focus on genetic analysis and the role for echocardiographical screening of the first degree relatives of affected patients.
Methods
Systematic literature searches were performed using PubMed and Embase up to September 2017. In Disse et al.'s study (study one) first degree relatives of 25 patients with Morbus Barlow who underwent mitral valve repair were screened for bileaflet valve prolapse. In Nesta et al.'s study one family with three living generations of 43 individuals with 9 confirmed cases of MVP was screened. Genotyping was performed in four families for 344 microsatellite markers from Chromosome 1 to 16.
Results
In study one, autosomal dominant inheritance was shown in four pedigrees. Genome-wide linkage analysis of the most informative pedigree (24 individuals, three generations) showed a significant linkage for markers mapping to chromosome 16p. Linkage to this locus was confirmed in a second family within the same study, but was excluded in the remaining two pedigrees. In study two an autosomal dominant locus was mapped to chromosome 13. 8 of the 9 individuals affected were found to suffer from bileaflet prolapse.
Conclusions
Barlow's disease is a heritable trait but the genetic causes remain largely elusive. Ch16p11.2-p12.1 is the only locus proven to be associated with bileaflet prolapse. Locus 13.q31.3-q32.1 was shown to cause bileaflet as well as posterior leaflet prolapse. This review intends to make physicians aware of genetic causes of myxomatous mitral valve prolapse, thereby emphasising the importance of cardiological examination of first-degree relatives of patients with Morbus Barlow. Integrated and more comprehensive studies are needed for identification of genes involved in this heterogenic disease. Further genomic studies may facilitate more individualised and accurate risk assessment and may help to develop possible preventive stategies for patients in the future.
Keywords
Morbus Barlow
Barlow's disease
Bileaflet prolapse
Bileaflet mitral valve genetic analysis
Myxomatous valve disease and myxomatous mitral valve
Background
Myxomatous mitral valve disease (MMVD) is a common cardiac anomaly which affects up to 5% of the general population [1]. It is characterized by a wide spectrum of clinical and electrocardiographic features, ranging from no symptoms (in the vast majority of individuals) to symptomatic mitral regurgitation, endocarditis, cerebral embolism and arrhythmias [1]. The myxomatous degeneration process often affects the whole mitral valve and therefore patients with Barlow's disease present frequently with complex valve pathology and dysfunction, which is mostly multi-segmental. There is no current consensus in terms of the true definition of Barlow's disease. Cardiologists diagnose Morbus Barlow when bileaflet prolapse is present, regardless of its extent. Conversely, surgeons refer to Barlow's disease in the presence of extensive myxoid degeneration, chordae elongation and annular dilatation with prolapse of one or both mitral valve leaflets. The histological changes of myxomatous degeneration are well understood. They include accumulation of glycosaminoglycans, collagen fragmentation, disorganisation of the extracellular matrix (ECM) and increased expression of proteolytic enzymes. However, the molecular pathways leading to MMVD are yet to be clarified [2].
Methods
Literature search and study selection
We conducted a systematic literature search using Pubmed and Embase, including references published up until September 2017. For this review, patients meeting the 'surgical' definition of Barlow's disease i.e. a high degree of myxomatous degeneration with prolapse of one or both leaflets, were of interest. The following key words were screened: "Morbus Barlow", "Barlow's disease", "genetic findings", "genetic pathways", "bileaflet prolapse", "barlow mitral genetic", "bileaflet mitral valve genetic analysis", "myxomatous valve disease" and "myxomatous mitral valve".
One reviewer performed the literature search. All relevant studies were included if published in a peer-reviewed journal and if the following inclusion criteria were met (Fig.
1
):
a)

Affected individuals were diagnosed with myxomatous mitral valve disease and diagnosis was confirmed by histological examination or patients were found to have bileaflet mitral valve prolapse by echocardiography (i.e. involvement of the anterior and posterior leaflet)

b)

The patients had a non-syndromic MVP (mitral valve prolapse)

c)

Genetic analysis was performed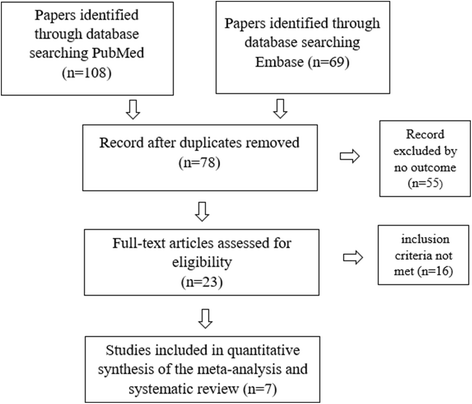 Proband selection
All patients with known syndromic diseases were excluded from our review. Individuals with histological proof of MMVD who underwent mitral valve surgery and those with echocardiographic evidence of bileaflet prolapse were selected for subsequent genetic analysis, including their first-degree relatives. In the following paragraphs, we briefly describe patient's selection process and methodology of the selected studies:
Discussion
The lack of a standardised definition of Barlow's disease made this review a challenge. We focussed on patients with excessive myxomatous degeneration of the mitral valve, chordae elongation, annular dilatation and presence of prolapse of one or both leaflets of the mitral valve, as per the 'surgical' definition of Barlow's syndrome. The aim of this review is to make physicians aware of MMVD as a heritable trait. Relatives of patients with surgically-confirmed Barlow's disease may benefit from cardiological examination and follow-up. Our systematic literature review demonstrates genetic heterogeneity of MMVD with linkage to chromosomes 11, 13, 16 and the X chromosome. Moreover, the pathophysiological impact of increased transforming growth factor-ß expression and of downstream signalling proteins has been demonstrated [13–16, 19, 20]. An increase in oxidative stress also seems to be associated with MMVD [20].
The studies analysed varied significantly in terms of their size and design.
The three studies that analysed biomolecular mechanisms leading to MMVD have several limitations that should be highlighted. First, MMVP was only diagnosed histologically in one study [19]. Furthermore, the control group consisted of cardiac transplant recipients. Although their mitral valves showed no visual pathological changes, MMVD was not previously excluded [19, 20].
Myxomatous mitral valve disease appears to be the result of multiple genetic pathways.
Conclusion
Large scale, multicentre segregation of MMVD patients and subsequent genome-wide association studies may allow the identification of additional relevant genes and further elucidation of pathways leading to the non-syndromic bileaflet mitral valve prolapse. Given the fact that MMVD affects young adult patients, identification of pathways leading to the development of diffuse myxomatous degeneration of leaflet tissue is of major clinical relevance. Early preventative interventions seeking to reduce the leaflet stress in genetically-susceptible individuals could potentially stop the progression of MMVD and prevent late valvular complications including mitral valve regurgitation, arrhythmias and endocarditis [15]. In vitro studies utilising surgically-excised mitral leaflet specimens have shown that myxomatous mitral valve changes might be pharmacologically modifiable by angiotensin receptor 2 blockers, a process which is based on modulation of TGF-ß [21]. This observation has potential clinical relevance in terms of the development of future pharmacological therapies for MMVD.
Abbreviations
AML:

Anterior mitral valve leaflet
BNP:

Bone morphogenetic protein
Chr:

Chromosome
ECM:

Extracellular matrix
FED:

Fibroelastic deficiency
FLNA-gene:

Filamin A gene
MMVD:

Myxomatous mitral valve disease
MMVP:

Myxomatous mitral valve prolapse
MVP:

Mitral valve prolapse
MVR:

Mitral valve regurgitation
PML:

Posterior mitral leaflet
qRT-PCR:

Quantitative real-time polymerase chain reaction
TGF-ß:

Transforming growth factor beta
Declarations
Acknowledgments
Not applicable
Availability of data and materials
Not applicable
Authors' contributions
We confirm that all authors have contributed equally to this study. SG: Acquisition and analysis of data as well as drafting the manuscript. HR and EG: Substantial contributions to conception, interpretation of data and critical revision of the manuscript for important intellectual content. All of the authors have given final approval of the version to be published.
Ethics approval and consent to participate
We hereby confirm that this study is a systematic review and that no research involving human participants was undertaken during this study.
Ethics approval and consent to participate was not necessary.
Consent for publication
Not applicable
Competing interests
All authors certify that they have NO affiliations with or involvement in any organization or entity with any financial interest (such as honoraria; educational grants; participation in speakers' bureaus; membership, employment, consultancies, stock ownership, or other equity interest; and expert testimony or patent-licensing arrangements), or non-financial interest (such as personal or professional relationships, affiliations, knowledge or beliefs) in the subject matter or materials discussed in this manuscript.
Publisher's Note
Springer Nature remains neutral with regard to jurisdictional claims in published maps and institutional affiliations.
Open AccessThis article is distributed under the terms of the Creative Commons Attribution 4.0 International License (http://creativecommons.org/licenses/by/4.0/), which permits unrestricted use, distribution, and reproduction in any medium, provided you give appropriate credit to the original author(s) and the source, provide a link to the Creative Commons license, and indicate if changes were made. The Creative Commons Public Domain Dedication waiver (http://creativecommons.org/publicdomain/zero/1.0/) applies to the data made available in this article, unless otherwise stated.
Authors' Affiliations
(1)
University Heart Centre Hamburg, Department of Cardiovascular Surgery, Hamburg, Germany