Practical based approach to left main bifurcation stenting
BMC Cardiovascular Disorders
2016
16:49
Received: 4 February 2016
Accepted: 12 February 2016
Published: 19 February 2016
Despite the recent developments that have been made in the field of percutaneous left main (LM) intervention, the treatment of distal LM bifurcation remains challenging. The provisional one-stent approach for LM bifurcation has shown more favorable outcomes than the two-stent technique, making the former the preferred strategy in most types of LM bifurcation stenosis. However, elective two-stent techniques, none of which has been proven superior to the others, are still used in patients with severely diseased large side branches to avoid acute hemodynamic compromise. Selecting the proper bifurcation treatment strategy using meticulous intravascular ultrasound evaluation for side branch ostium is crucial for reducing the risk of side branch occlusion and for improving patient outcomes. In addition, unnecessary complex intervention can be avoided by measuring fractional flow reserve in angiographically isolated side branches. Most importantly, good long-term clinical outcomes are more related to the successful procedure itself than to the type of stenting technique, emphasizing the greater importance of optimizing the chosen technique than the choice of method.
Left main coronary artery
Percutaneous coronary intervention
Bifurcation
Intravascular ultrasound
Fractional flow reserve
Results of randomized trials and observational studies found that percutaneous coronary intervention (PCI) is a potential alternative to bypass surgery for patients with unprotected left main (LM) coronary artery stenosis [1]. However, PCI for LM bifurcation is technically demanding and has been associated with high rates of adverse clinical events [2]. In addition, a lack of randomized clinical trials focusing on distal LM intervention has often led to uncertainties regarding the optimal stenting strategy. In general, based on non-randomized studies and extrapolations from the results of non-LM bifurcation trials, the provisional one-stent approach has been considered as a preferred strategy over the elective two-stent technique for patients with LM bifurcation disease. In practice, however, two-stent techniques are chosen more frequently for LM bifurcation than for non-LM lesions due to concerns regarding the ischemic myocardial volume, which would be jeopardized by adverse events [3]. This review therefore discusses the optimal methods of distal LM bifurcation stenting from a practical point of view.
Figure
3
is a schematic flow chart summarizing clinical strategies for treating distal LM bifurcation disease. Careful selection of candidates for the provisional approach is the most important step in avoiding procedure-related complications and ensuring favorable individual outcomes. Incorporating the FFR-guided PCI strategy in treating isolated LCX may further help avoid unnecessary SB interventions. Meticulous evaluation of LM bifurcations using intravascular imaging is crucial in selecting the proper stent strategy and in achieving optimal stent results.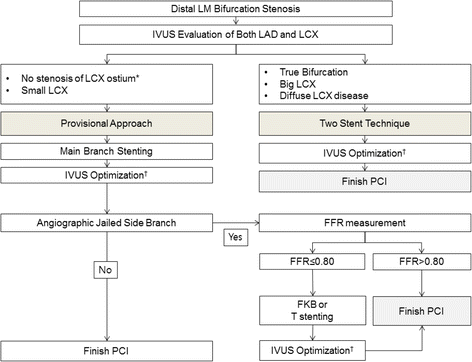 Abbreviations
CI:

confidence interval
DES:

drug-eluting stent
FFR:

functional flow reserve
FKI:

final kissing balloon inflation
HR:

hazard ratio
IVUS:

intravascular ultrasound
LCX:

left circumflex artery
LM:

left main
MB:

main branch
MSA:

minimal stent area
MV:

main vessel
OCT:

optical coherence tomography
PCI:

percutaneous coronary intervention
POC:

polygon of confluence
SB:

side branch
Open AccessThis article is distributed under the terms of the Creative Commons Attribution 4.0 International License (http://creativecommons.org/licenses/by/4.0/), which permits unrestricted use, distribution, and reproduction in any medium, provided you give appropriate credit to the original author(s) and the source, provide a link to the Creative Commons license, and indicate if changes were made. The Creative Commons Public Domain Dedication waiver (http://creativecommons.org/publicdomain/zero/1.0/) applies to the data made available in this article, unless otherwise stated.
(1)
Department of Cardiology, University of Ulsan College of Medicine, Asan Medical Center, 388-1 Poongnap-dong, Songpa-gu, Seoul, 138-736, Korea