Research article
Open Access
Open Peer Review
This article has Open Peer Review reports available.
Financial impact of adopting implantable loop recorder diagnostic for unexplained syncope compared with conventional diagnostic pathway in Portugal
BMC Cardiovascular Disorders
2014
14:63
Received: 30 August 2013
Accepted: 28 April 2014
Published: 6 May 2014
Abstract
Background
To estimate the short- and long-term financial impact of early referral for implantable loop recorder diagnostic (ILR) versus conventional diagnostic pathway (CDP) in the management of unexplained syncope (US) in the Portuguese National Health Service (PNHS).
Methods
A Markov model was developed to estimate the expected number of hospital admissions due to US and its respective financial impact in patients implanted with ILR versus CDP. The average cost of a syncope episode admission was estimated based on Portuguese cost data and landmark papers. The financial impact of ILR adoption was estimated for a total of 197 patients with US, based on the number of syncope admissions per year in the PNHS. Sensitivity analysis was performed to take into account the effect of uncertainty in the input parameters (hazard ratio of death; number of syncope events per year; probabilities and unit costs of each diagnostic test; probability of trauma and yield of diagnosis) over three-year and lifetime horizons.
Results
The average cost of a syncope event was estimated to be between 1,760€ and 2,800€. Over a lifetime horizon, the total discounted costs of hospital admissions and syncope diagnosis for the entire cohort were 23% lower amongst patients in the ILR group compared with the CDP group (1,204,621€ for ILR, versus 1,571,332€ for CDP).
Conclusion
The utilization of ILR leads to an earlier diagnosis and lower number of syncope hospital admissions and investigations, thus allowing significant cost offsets in the Portuguese setting. The result is robust to changes in the input parameter values, and cost savings become more pronounced over time.
Keywords
SyncopeImplantable loop recorderEmergency departmentBudget impact analysis
Background
Syncope represents a major health challenge for the medical team diagnosing its etiology, which can range from benign neurocardiogenic syncope to potentially fatal arrhythmias. The frequency of syncope episodes at the emergency department is reported in recent studies to range from 0.9% to 1.7% of all attendances [1–8]. Due to the potentially life-threatening etiology of syncope, patients often undergo a long and costly clinical pathway, which sometimes comprises extensive and repeated investigations. For this reason, syncope represents a clinical challenge and a financial burden to health care systems [9–11].
Evidence regarding the clinical and economic benefit of the implantable loop recorder (ILR) for the etiologic study of recurrent syncope has grown in recent years [12, 13] and the use of such devices is currently supported by the 2009 European Society of Cardiology Syncope Guidelines [14].
Previous clinical studies using ILRs in Unexplained Syncope patients have focused on a 12-month period of time as opposed to a cohort-level analysis comparing ILR with non-ILR strategies over the lifetime of the patients [4, 15, 16]. Moreover, none of these analyses has been performed within the Portuguese healthcare setting.
We aimed to estimate the financial impact of adopting Implantable Loop Recorder Diagnostic for the diagnosis of unexplained syncope versus a conventional diagnostic pathway (CDP) in the context of the Portuguese National Health System.
Results
Deterministic analysis
After running the model for both three-year and lifetime horizons it was possible to estimate the financial impact for the two patient groups (see Table
3
). From 197 Patients in the ILR group, 135 (68.5%) were diagnosed within a 3-year period and of these, 64 (47.4%) were diagnosed in the first year. By contrast, 40 (20.3%) of the patients from the CDP group were diagnosed in the first three years. The total cost of hospital admissions in a three-year time horizon due to syncope was 23% lower in the ILR group than in the CDP Group in the base-case analysis, after factoring in the costs of diagnostic tests in the CDP group (1,204,621€ for the ILR group, versus 1,571,332€ for the CDP group - this translates to a saving of 1,861€ per patient). In all four of the other main scenarios tested (using diagnostic test frequency data from other studies), ILR led to an earlier diagnosis and consequently to a lower number of syncope hospital admissions, allowing important hospital cost offsets, with savings of between 307,872€ and 973,429€ for the entire cohort (1,563€–4,941€ per patient) over a lifetime horizon (Table
3
). Over a 3-year horizon, costs were higher in the ILR group, due to the up-front cost of device acquisition and implantation.
Table 3
Number of syncope hospital admissions, diagnosed patients and costs for ILR and CDP groups in different scenarios
Model output

ILR

CDP

Overall savings

Time horizon

Lifetime

3 years

Lifetime

3 years

Lifetime

3 years

Number of patients diagnosed

175

135

143

40

32

95

Number of patients undiagnosed and alive

1

58

2

152

-1

-94

Total syncope episodes

531

215

1,141

315

610

100

Number of injuries (major and minor)

278

112

596

165

318

53

Costs – device acquisition

394,000€

394,000€

0€

0€

-394,000€

-394,000€

Costs – device-related expenses

71,101€

71,101€

0€

0€

-71,101€

-71,101€

Costs – syncope admissions

705,292€

353,756€

1,431,910€

513,879€

726,618€

160,123€

Costs – diagnostic tests*

34,228€

0€

139,422€

50,035€

105,194€

50,035€

Costs – total (Sousa Pedro)

1,204,621€

818,857€

1,571,332€

563,915€

366,711€

-254,943€

Costs – total (Edvardsson)

1,402,037€

818,857€

2,375,465€

852,499€

973,429€

33,642€

Costs – total (Baron-Esquivias)

1,188,830€

818,857€

1,507,011€

540,831€

318,181€

-278,026€

Costs – total (Brignole)

1,206,495€

818,857€

1,578,965€

566,654€

372,470€

-252,203€

Costs – total (Farwell)

1,185,476€

818,857€

1,493,347€

535,928€

307,872€

-282,929€
One-way sensitivity analysis
The results of the one-way sensitivity analysis are shown in Figure
2
. The x-axis represents the per-patient cost savings in the ILR arm over a lifetime horizon. The vertical line in the centre of the chart represents the deterministic cost savings for the ILR group, the bars towards the top of the chart show the parameters whose uncertainty has the most influence upon this outcome (the numbers at either end of each bar represent the range of values used for each input parameter), and the values in brackets show the base-case value of each input parameter. The ranges used for each parameter were specified either by using data from other studies or by halving (or doubling) the base-case values (for example, the upper bound of 0.78 used for the diagnosis probability in the ILR arm was based on PICTURE; the upper bound of 0.81 for the number of syncopes per year was reported by an earlier publication of the EaSyAS study (Farwell, (16)). Based on this analysis, the key parameters appear to be: the diagnosis probability in the ILR arm; the cost per syncope-related minor injury; the probability of injury per syncope event; and the syncope rate per year. ILR is projected to provide cost savings in all but two scenarios; the first of these involved reducing the probability of injury to 0.25 (from 0.522 in the base-case), while the second involved setting the probability of diagnosis in the ILR arm to be equal to that in the CDP arm, representing an extremely conservative approach. To explore this latter scenario more thoroughly, we examined the relationship between the probability of diagnosis with ILR and the overall cost savings predicted by the model. This relationship is shown in Figure
3
and indicates that with our model, provided that the probability of diagnosis with ILR is above 35% and the absolute incremental probability of diagnosis versus CDP is at least 17.5%, ILR is projected to provide cost savings compared with CDP. None of the diagnostic test costs had a significant impact upon the cost savings calculated from the model.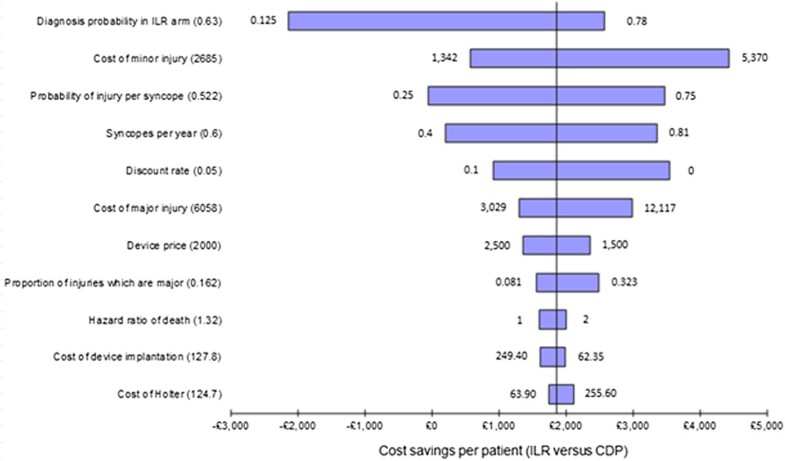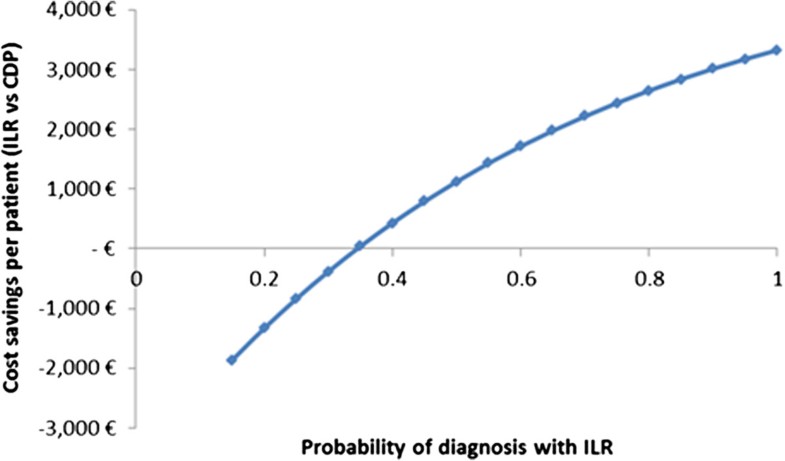 Probabilistic sensitivity analysis
The probabilistic analysis was performed initially using the resource use assumptions from Sousa et al. [
24
]. Based on the set of 10,000 sampled input parameter values, the mean lifetime savings for the ILR group compared with the CDP group were 411,167€ for the entire cohort (or 2,087€ per patient). Figure
4
shows a histogram of the cost savings (ILR versus CDP) for the 10,000 probabilistic runs – it can be observed that the significant majority (91.1%) of these resulted in cost savings in the ILR group. Probabilistic analyses were also performed under the four other scenarios (using resource data from different studies). In each case, at least 87% of simulations resulted in cost savings in the ILR group over a lifetime horizon.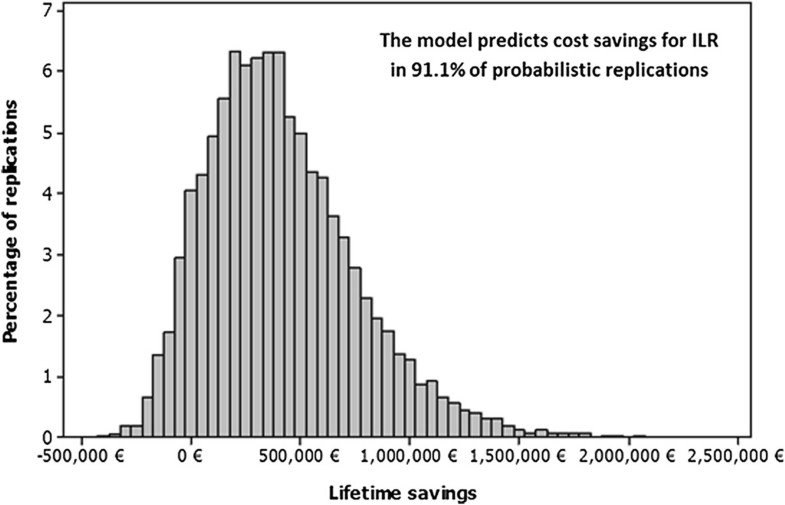 Discussion
We used a Markov Model based on government data and landmark international papers to compare the cost of ILR use versus CDP in unexplained recurrent syncope patients. Our results demonstrate that the use of ILR leads to fewer hospital admissions and investigations, suggesting its potential for significant cost offsets in the Portuguese National Health Service.
We have considered five scenarios based on data from different studies recently published in this subject area. We consider PICTURE [21] to be the most appropriate scenario since the study population enrolled most closely resembles ILR-indicated patients and thus the diagnostic tests observed are the ones with a higher likelihood of resembling the tests performed on unexplained syncope patients. The remaining scenarios used data from studies that focused generally on syncope patients and therefore included patients not indicated for ILR. Nevertheless, we believe there is value in testing all possible scenarios. Although PICTURE seems to better reflect the study population, we have used Sousa Pedro study as our base-case scenario, since it reports data from a Portuguese Population.
Under every scenario considered, ILR appears to be significantly cost-saving over a lifetime horizon. One-way sensitivity analyses failed to identify any plausible scenario under which ILR use does not result in significant cost-savings, prompting us to believe that ILRs should be offered to indicated patients. Probabilistic sensitivity analysis suggested that ILR is very likely to be cost-saving over a lifetime horizon, based on the modelling approach used and specification of parameter uncertainty.
The diagnosis rates predicted by the model closely match the data reported by Farwell et al. [16] and are aligned with the observations of Krahn et al. [12] Longer-term projections of the proportion of patients diagnosed also support long-term follow-up of the ISSUE-2 study, in which it has been projected that 80% of patients with an ILR would be diagnosed within four years [30].
The discrepancy between the guideline indications for the implantation of ILRs and their use in clinical practice has been described by Vitale E et al. [31] for the Italian population. Nevertheless, we highlight than in the 2005 to 2007 period, ILR implants in Italy were approximately three times more frequent (10 to 20 per million inhabitants) than in Portugal, where a very low number of implants has been observed: six ILRs per million inhabitants were implanted in 2011 [32]. This was about four to five times less than in Western Europe (15 to 28 ILRs per million inhabitants) and eight to ten times less than in the United Kingdom (28 to 59 ILRs per million inhabitants) [33], and well below the EHRA recommended rate of 135 implants/million [17].
If a total of 197 patients with unexplained syncope, as considered in this analysis, were implanted with ILR per year this would lead to an implant rate of 20 ILRs per million inhabitants, which would be in line with the practice from other European countries and would lead to considerable cost offsets to the Portuguese National Health Service. According to these results, limiting the use of ILRs in patients with a clear clinical indication leads to an increase in the number of other investigations and avoidable injuries. This in turn results in an increase of expenditure compared with other European countries. Furthermore, in the Portuguese context the use of ILR seems to occur in a late stage of the diagnostic workup of syncope. This suggests that patients have probably already undergone an exhaustive assessment with many investigations; this could mean that these patients have already used a lot of valuable healthcare resources which could have been invested elsewhere if ILR had been used earlier in the diagnostic pathway.
Previous studies on the use of ILR in a short term period have also demonstrated a favourable cost-benefit ratio. In the Randomized Assessment of Syncope Trial (RAST) ILR usage was compared with a conventional strategy (including the use of external loop recorder during 2 to 4 weeks, TILT testing and electrophysiological study - EPS) and achieved a higher frequency of diagnosis in subjects with unexplained syncope (55% versus 19%; p = 0.0014) [12]. The same study demonstrated the superior cost-effectiveness performance of the ILR strategy translated by a reduced cost-per-successful-diagnosis using ILRs; 5,852$ CAD for each diagnosis versus 8,414$ CAD in the conventional strategy group [15].
In the Eastbourne Syncope Assessment Study (EaSyAS) a further evaluation of the impact of the ILR compared to conventional investigation was performed. The invasive strategy achieved earlier, more diverse and more frequent (hazard ratio 8.93 95% CI 3.17–25.2, p < 0.0001) diagnosis, resulting in cost savings (mean difference of £809) [19]. Additionally, the diagnostic accuracy, safety, reliability and usefulness of the ILR has already been demonstrated in recent trials and in specific populations, such as patients with congenital heart disease [21, 34, 35] and patients undergoing magnetic resonance imaging [36].
Study limitations
Incidence of DRG codes to estimate the size of the population may be associated with some error. Underestimation may occur in patients admitted with trauma due to syncope, if the type of lesion is codified as the main diagnosis and syncope is not introduced/codified. Conversely, if patients were admitted twice in the same year, that may have led to some degree of overestimation of the total number of patients. However, we think that these events may correspond to a minority of cases and may have partially and mutually neutralized themselves, since one led to overestimation and the other to underestimation.
We do not know for sure the Portuguese reality regarding the number and type of investigations that are performed before obtaining a diagnosis of referral of the patient to an ILR, namely the number of 24-hour Holter monitoring tests, external loop recorders, transthoracic echocardiogram, blood tests, head Computed Tomography scans and coronary angiograms exams. Sousa and colleagues report data from a syncope unit in the south of Portugal, and although it refers specifically to Portuguese practice in syncope management, it is a very unique case in the country and therefore may not reflect the national reality [24]. Nevertheless, taking into account the very low incidence of ILR implants in our country, a possible deviation is for having a higher number and more diverse type of investigations in Portugal, which would actually underestimate the expenditure with investigations, leading to a more favourable cost profile for ILR.
For the diagnostic yield, we used assumptions based on the EaSyAS study [19] for both treatment groups. EaSyAS was conducted with an earlier ILR device version, while the more recent PICTURE study was conducted with ILRs which have vastly improved auto-detection algorithms [13, 21]. Since the devices currently on the market are DX/XT we consider the base-case results described here to be represent conservative estimates of the savings possible through wider use of ILRs. Furthermore, our study considered only the initial costs of injuries sustained as a result of syncope episodes (using the tariffs for minor and major injuries). This is likely to under-estimate the total costs of injury management, since it does not account for the ongoing costs of managing serious injuries and long-term sequelae [37]. Bartoletti reports that the majority of syncope-related traumas are to the head, suggesting that managing these events would in many cases involve greater costs than that of the initial hospitalisation [26].
Conclusions
These results demonstrate that the use of an implantable loop recorder early in the assessment of patients with recurrent unexplained syncope has a favourable cost profile in the Portuguese context.
Based on the very low utilization of these devices in Portugal when compared with most European countries, we can assume that a stricter compliance with the 2009 ESC syncope guidelines may lead to an earlier use and important reduction in health care expenditure associated with unexplained recurrent syncope patients.
Authors' Affiliations
(1)
Centro Hospitalar e Universitário de Coimbra, Serviço de Cardiologia, Portugal
(2)
Faculdade de Medicina, Universidade de Coimbra, Coimbra, Portugal
(3)
Hospital de Faro EPE, Faro, Portugal
(4)
Hospital Prof. Doutor Fernando da Fonseca EPE, Amadora, Portugal
(5)
Hospital de Santo António, Centro Hospitalar do Porto, Porto, Portugal
(6)
Hospital de Guimarães, Centro Hospitalar do Alto Ave EPE, Guimarães, Portugal
(7)
Medtronic, Lisboa, Portugal
(8)
Medtronic, Tolochenaz, Switzerland
(9)
Serviço de Cardiologia, Hospital Geral do, Centro Hospital e Universitário de Coimbra, Quinta dos Vales, S. Martinho do Bispo, Portugal
Copyright
© Providência et al.; licensee BioMed Central Ltd. 2014
This article is published under license to BioMed Central Ltd. This is an Open Access article distributed under the terms of the Creative Commons Attribution License (http://creativecommons.org/licenses/by/2.0), which permits unrestricted use, distribution, and reproduction in any medium, provided the original work is properly credited.