Case report

Open Access

Open Peer Review
This article has Open Peer Review reports available.
Characterization of a calcified intra-cardiac pseudocyst of the mitral valve by magnetic resonance imaging including T1 and T2 mapping
BMC Cardiovascular Disorders
2014
14:11
Received: 16 November 2013
Accepted: 17 January 2014
Published: 28 January 2014
Abstract
Background
Even though intra-cardiac cystic lesions are extremely unusual in adults, they should be considered in the differential diagnosis of patients presenting with valvular masses. Cardiac magnetic resonance imaging has emerged as modality of choice for non-invasive characterization of cardiac masses.
Case presentation
We report a case of an intra-cardiac mass of the mitral valve in a 51-year old male, detected by echocardiography after transient ischemic attack and retinal artery occlusion. Cardiac magnetic resonance (CMR) imaging was performed at 3 T to evaluate and characterize the lesion prior to surgery. Diagnosis of a calcified left-ventricular pseudocyst of the mitral valve was confirmed by histological evaluation.
Conclusions
This case presents the unusual finding of contrast uptake in an intra-cardiac cystic lesion and points to the potential of T1 and T2 mapping for assisting in the characterization and diagnosis of intra-cardiac masses by CMR.
Keywords
Mitral ValveCardiac Magnetic ResonanceLate Gadolinium EnhancementRetinal Artery OcclusionPapillary Fibroelastoma
Background
Intra-cardiac cystic lesions are extremely unusual in adults. Classified as benign tumors predominantly involving the cardiac valves and supporting structures, intra-cardiac cysts have been recognized as a cause of intra-cavity flow obstruction, arrhythmia, and valvular dysfunction and have been associated with a risk of embolization [1–3].
Whereas echocardiography is the mainstay imaging technique for the detection of intra-cardiac tumors, multi-parametric cardiac magnetic resonance (CMR) imaging has become the modality of choice for non-invasive characterization of cardiac masses [4]. Comprehensive CMR imaging protocols for the evaluation of cardiac tumors including cine steady-state free precession (SSFP) sequences, black-blood T1- and T2-weighted turbo spin-echo (TSE) imaging with and without fat saturation before and after contrast enhancement, first-pass perfusion and early and late gadolinium enhancement (LGE) have been introduced, providing substantial information on the extent, morphology and vascularization of cardiac lesions [5]. Discrimination of intra-cardiac masses based on image signal intensity patterns, however, remains challenging because of their qualitative nature.
Techniques enabling the quantification of cardiac T1 and T2 magnetic relaxation times within reasonable breath-hold periods [6–9] have yielded remarkable evidence in objective identification of ischemic and non-ischemic myocardial injuries [10–12]. As these magnetic relaxation times provide information about tissue composition on standardized scale (in milliseconds), they may have the potential to further improve the differentiation of cardiac tumors. The application of T1 and T2 mapping for characterization of intra-cardiac masses has not been reported to date.
Case presentation
A 51-year-old male with a history of smoking underwent transthoracic and transoesophagial echocardiography after a transient ischaemic attack (TIA) and right retinal artery occlusion. Echocardiography documented a mass of 26 mm × 24 mm attached to the mitral valve (Figure
1
A), medium degree mitral and tricuspid regurgitation, and thrombosis of the aortic arch and descending aorta. Anticoagulant therapy was immediately initiated. Complete blood count and biochemical tests, including electrolytes, kidney, heart and liver function tests were within normal limits, and repeated cultures of blood and urine were all negative. Thoracic computed tomography (CT) confirmed the presence of a calcified lesion on the mitral valve of unclear extent (Figure
1
B,C); no signs of thrombosis of the aorta were found. Based on recurring signs of TIA, including visual disturbance, speech problems and left-side dysaesthesia, the decision was made to excise the lesion surgically.

For pre-surgical evaluation of localization, extend and nature of the mass, the patient was referred for 3 T CMR imaging (Magnetom Trio, Siemens AG, Healthcare Sector, Erlangen, Germany). Differential diagnoses of the mass included caseous calcification of the valvular annulus, valvular calcified thrombus, calcified tumor (calcified myxoma or papillary fibroelastoma of mitral valve), or intra-cardiac cystic lesion. A comprehensive, ECG-gated CMR imaging protocol was carried out in breath-hold and included prototype T1 and T2 mapping sequences.
Surgery and histological diagnosis
During surgery a smooth-shaped, white-yellowish mass was found on the ventricular side attached to the mitral valve and the posterior left ventricular wall (Figure
7
A). The structure contained a cloudy fluid and presented with a villous inner wall consisting of cobblestone-shaped structures (Figure
7
B). The mass was successfully resected and the mitral valve replaced (St. Jude). The postoperative course was uneventful.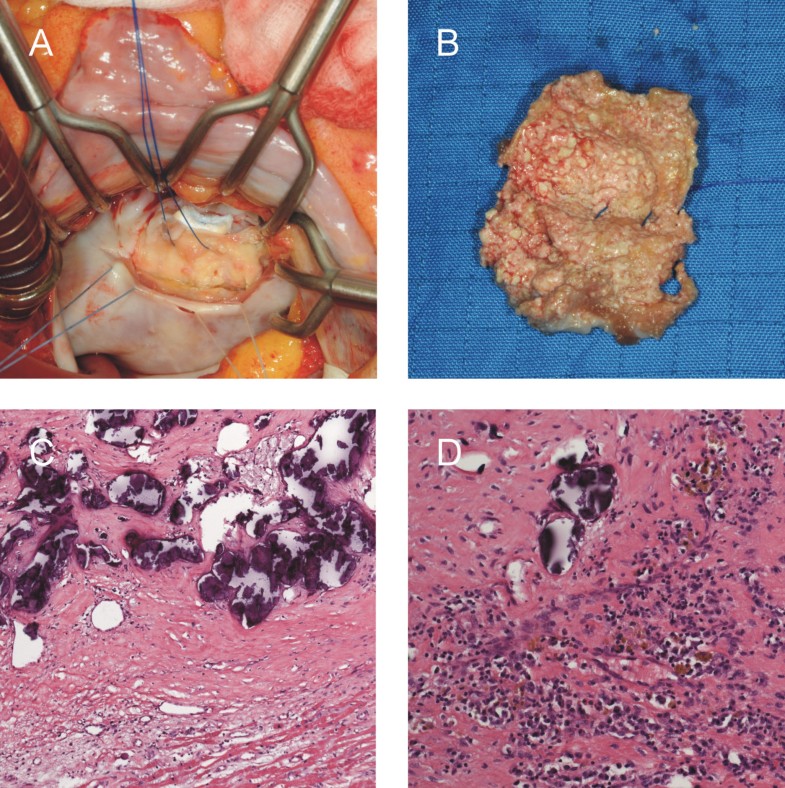 Histologic evaluation revealed a calcified pseudocystic mass of the mitral valve. Surrounded by a fibrous, calcified envelope, the wall of the lesion contained a dense layer of connective tissue with multiple occluded vessels and calcifications, without an inner epithelial layer (Figure 7C) and with signs of a chronic inflammatory process indicating chronic endocarditis (Figure 7D). Malignancy was ruled out.
Conclusions
An intra-cardiac cystic lesion can show contrast agent uptake. CMR enables evaluation of location, size, shape, mobility, and texture of an intra-cardiac lesion. T1 and T2 mapping before and after contrast agent application might provide quantitative information on the nature of a lesion's content, possibly improving the non-invasive diagnosis and differentiation of intra-cardiac tumors.
Consent
Written informed consent was obtained from the patient for publication of this case report and any accompanying images. A copy of the written consent is available for review by the Editor of this journal.
Abbreviations
CMR:

Cardiac magnetic resonance
CT:

Computed tomography
FLASH:

Fast low angle shot
LGE:

Late gadolinium enhancement
MOLLI:

Modified look-locker inversion recovery
SSFP:

Steady-state free-precession
TIA:

Transient ischaemic attack
TSE:

Turbo spin-echo.
Declarations
Acknowledgements
The authors thank Ada Muellner, MS, for editing the manuscript.
Authors' Affiliations
(1)
Division of General Radiology, Department of Radiology, Medical University of Graz, Graz, Austria
(2)
Siemens AG, Healthcare Sector, Graz, Austria
(3)
Institute of Pathology, Medical University of Graz, Graz, Austria
(4)
Division of Cardiac Surgery, Department of Surgery, Medical University of Graz, Graz, Austria
(5)
Division of Cardiology, Department of Internal Medicine, Medical University of Graz, Graz, Austria
(6)
Siemens AG, Healthcare Sector, Erlangen, Germany
(7)
Department of Diagnostic and Interventional Radiology, University of Ulm, Ulm, Germany
Copyright
© Reiter et al.; licensee BioMed Central Ltd. 2014
This article is published under license to BioMed Central Ltd. This is an Open Access article distributed under the terms of the Creative Commons Attribution License (http://creativecommons.org/licenses/by/2.0), which permits unrestricted use, distribution, and reproduction in any medium, provided the original work is properly cited. The Creative Commons Public Domain Dedication waiver (http://creativecommons.org/publicdomain/zero/1.0/) applies to the data made available in this article, unless otherwise stated.