Research article

Open Access

Open Peer Review
This article has Open Peer Review reports available.
Effect of calcification on the mechanical stability of plaque based on a three-dimensional carotid bifurcation model
BMC Cardiovascular Disorders
2012
12:7
Received: 18 October 2011
Accepted: 15 February 2012
Published: 15 February 2012
Abstract
Background
This study characterizes the distribution and components of plaque structure by presenting a three-dimensional blood-vessel modelling with the aim of determining mechanical properties due to the effect of lipid core and calcification within a plaque. Numerical simulation has been used to answer how cap thickness and calcium distribution in lipids influence the biomechanical stress on the plaque.
Method
Modelling atherosclerotic plaque based on structural analysis confirms the rationale for plaque mechanical examination and the feasibility of our simulation model. Meaningful validation of predictions from modelled atherosclerotic plaque model typically requires examination of bona fide atherosclerotic lesions. To analyze a more accurate plaque rupture, fluid-structure interaction is applied to three-dimensional blood-vessel carotid bifurcation modelling. A patient-specific pressure variation is applied onto the plaque to influence its vulnerability.
Results
Modelling of the human atherosclerotic artery with varying degrees of lipid core elasticity, fibrous cap thickness and calcification gap, which is defined as the distance between the fibrous cap and calcification agglomerate, form the basis of our rupture analysis. Finite element analysis shows that the calcification gap should be conservatively smaller than its threshold to maintain plaque stability. The results add new mechanistic insights and methodologically sound data to investigate plaque rupture mechanics.
Conclusion
Structural analysis using a three-dimensional calcified model represents a more realistic simulation of late-stage atherosclerotic plaque. We also demonstrate that increases of calcium content that is coupled with a decrease in lipid core volume can stabilize plaque structurally.
Keywords
atherosclerosiscalcificationfibrous caplipidsplaque rupture
1. Background
Atherosclerosis constitutes a high number of deaths related to cardiovascular diseases in developed countries. It is a chronic systemic disease, frequently leading to vascular morbidity and premature mortality. Although atherosclerosis is systemic, plaque rupture is local and leads to acute cardiac syndromes such as ischemia and myocardial infarction or cerebrovascular events. Plaque material and structural characteristics are important factors in the natural progression of the disease and may have important clinical predictive value.
Extensively calcified lesions most likely represent atherosclerosis at later stages of remodelling and may reflect more stable lesions [1]. However, earlier stages of atherosclerosis that do not contain calcium deposits may be more prone to rupture with subsequent occurrence of acute events [2]. Not only can non- or less-invasive imaging identify flow-limiting coronary stenosis [3], but it can also to detect plaque components, measure atherosclerotic plaque burden and its response to treatment, and to differentiate stable plaques from those that are prone to rupture [4, 5]. Non-invasive imaging modalities such as computed tomography [6] and magnetic resonance imaging [7–9], as well as the invasive intravascular ultrasound modality [10–12], allow for detection of plaque morphology and composition (calcified versus non-calcified atherosclerotic plaques) and assessment of the extent of remodelling [13].
Plaques can be characterized into three types based on the histology analysis [
14
]: non-calcified plaques; calcified plaques; and mixed plaques refer to lesions with non-calcified and calcified components within a single lesion (Figure
1A
and
1B
). The presence of calcification in lipid, based on observation agglomerate of calcium clusters, occurs in some plaques (Figure
1C
and
1D
). Calcium content is reported to increase in patients with acute coronary syndrome [
15
]. Large lipid core and calcified areas (defined as > 10% of the plaque area each) and thin-cap fibroatheroma have been found to be associated with positive vascular remodeling [
16
,
17
]. Regardless of the mechanisms of calcium formation involved, histology shows that calcium is a common but variable component in advanced atherosclerotic plaques.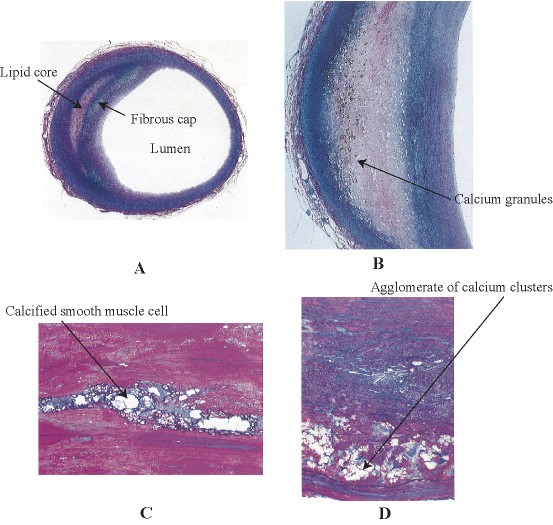 Both composition and morphology are the determining factors for critical stress (or peak maximum principal stress) during rupture. Plaque characteristics can be determined from numerical simulation for evaluation of its vulnerability [18–20]. In particular, patient-specific geometries can be reconstructed from MRI [21–27], and also with emphasis on the plaque rupture in the carotid artery due to high shear stress [28, 29]. More importantly, a shift in paradigm occurs for the mechanism of fibrous cap rupture ranging from calcifications in arteries with lipid pools to cellular level microcalcifications in the fibrous cap. Effect of fibrous cap on plaque vulnerability has been widely investigated [30, 31]. For a calcified plaque, the existence of some calcium core structural configurations is hypothesized to play a critical role in plaque rupture [32–34]. However, studies are limited to micro-calcification spots embedded in fibrous caps. The realistic calcification structures are present in the lipid and in agglomerates of clusters as presented by Huang et al. who showed the effect of percent areas of calcification and lipids on maximum principal stress [35]. But such patient-specific studies lack morphological parameters on controlled stress models and restrict insights into plaque rupture.
To address the current limitations, we model a realistic calcified plaque using variation of mechanical properties such as maximum principal stress and deformation due to the effect of morphological changes by calcification composites. A number of pathological and clinical imaging studies suggest that plaque vulnerability is inversely correlated with fibrous cap thickness. In addition to the fibrous cap thickness, the calcification gap which is defined as the width between the fibrous cap and the agglomeration of calcium clusters in the lipid is studied for the first time. To verify our hypothesis that calcification plays an important role in plaque vulnerability, idealized morphological constituents are implemented at different configurations to correlate stress parameters with geometrical properties.
3. Results and Discussion
4. Conclusion
Medical imaging modalities are able to characterize the atherosclerotic plaque in terms of their morphological and mechanical properties. Non-invasive imaging techniques not only identify flow-limiting vascular stenosis, but also detect calcified and non-calcified plaque, measure atherosclerotic plaque burden and its response to treatment, and differentiate stable plaques from those which tend to rupture [4, 5]. However, the prediction of high-risk plaque rupture still requires a numerical simulation framework for verification due to the complex matrix of different material composites. This can form the basis for determining adverse cardiovascular events that have exceeded the threshold for rupture.
Subintimal plaque structures such as the fibrous cap, calcification gap and lipid core play an important role in determining plaque rupture. For a non-calcified plaque with constant luminal area, the critical stress and peak deformation increase as the fibrous cap becomes thinner. On the contrary, these two mechanical effects lessen in the presence of calcification agglomerates. For a thin fibrous cap and a large calcification gap, the stress levels will be significant and results in high vulnerability of the plaque despite the fact that they may show angiographically insignificant. Therefore, the subintimal structure should be used as the basis for determining plaque vulnerability instead of information on stenotic severity that is based on medical image visualisation.
Macrocalcifications occupy part of the lipid pool and that the cellular and smaller calcifications are distinct from these macrocalcifications which forms another category. All natures of the calcifications may coexist in the lipid pool and are independent of one another. We made an assumption in the model that the microcalcifications are floating debris uniformly distributed in the lipid pool without adhesion to form larger macrocalcification structures. While this may not form the true composite in reality, the effect of calcification can still be modelled by this configuration.
Calcification clusters plays a major role in plaque rupture as demonstrated by structural analysis on a continuous calcification agglomerate structure. Some studies showed a negative effect on plaque vulnerability and demonstrated that stress induced by microcalcification in thin fibrous caps advances plaque rupture [32–34]. Others suggested that calcification stabilizes plaque [35, 36]. Cellular calcification structures introduce a role in plaque vulnerability, and our study may be of interest to the analysis of calcification structure based on agglomerates of micro-calcium elements in plaque. In reality, calcium clusters are scattered in the form of a crescent shape within the lipid core. To examine the collective effect of these calcium clusters such as their distance from the fibrous cap, we assume a continuous calcification structure along the curvature of the artery with a layer of lipid volume in between. Our agglomerate model is a linear combination of microcalcification, fibrous plaque and lipid at specific percentages and assumed a uniform property based on this homogenous mixture, which may be adjusted depending on patient-specific density of calcium in plaque.
We arbitrarily assume the configuration of the computational models based on observation of the histologic images of partially calcified plaque. It represents a particular stage of calcified plaque development. The nature of analysis would remain the same even though this configuration is modified at a later stage of the development.
Declarations
Acknowledgements and Funding
The financial support provided by Australian Research Council (ARC project ID DP09786183) is also gratefully acknowledged.
Authors' Affiliations
(1)
School of Aerospace, Mechanical and Manufacturing Engineering, and Health Innovations Research Institute (HIRi), RMIT University, Australia
(2)
Discipline of Medical Imaging, Department of Imaging and Applied Physics, Curtin University, Australia
Copyright
© Wong et al; licensee BioMed Central Ltd. 2012
This article is published under license to BioMed Central Ltd. This is an Open Access article distributed under the terms of the Creative Commons Attribution License (http://creativecommons.org/licenses/by/2.0), which permits unrestricted use, distribution, and reproduction in any medium, provided the original work is properly cited.