by Anna Melidoni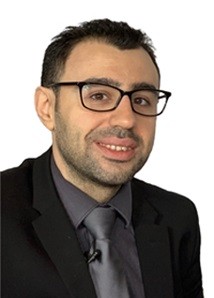 AM: Tell us a bit about yourself and your current focus of research.
MM: My name is Michael Megaly. I am currently an Interventional Cardiology Fellow and Clinical Instructor Faculty at Banner University Medical Center and UA College of Medicine-Phoenix. I completed my Medical degree and a Master's degree in Egypt. I completed Cardiology fellowship at the Minneapolis Heart Institute and HCMC in Minnesota. My clinical and research focus include chronic total occlusion interventions, complex high-risk coronary interventions, coronary in-stent restenosis treatment, cardiogenic shock, and mechanical circulatory support.
AM: What do you think is the most fascinating recent development in cardiovascular research/Cardiology?
MM: Cardiology is a field with continuous growth and momentum, and we see fascinating developments every day. I would talk specifically about interventional cardiology. The accumulating data regarding the benefits of complete revascularization after myocardial infarction has recently been one of the most important developments. The concept of antithrombotics de-escalation after PCI has been fascinating and should also be incorporated into the guidelines soon. There are also numerous developments in the toolbox of percutaneous coronary interventions and chronic total occlusion revascularization.
AM: Is there an area of Cardiovascular biology/Cardiology that you think is currently under-explored?
MM: Cardio-oncology is an emerging field that needs a lot of attention and dedicated trials. I believe this will happen soon, but as it stands, it remains under-explored. Another critical area that deserves more attention is microvascular angina. There is a need for more trials and therapeutic options for these patients.
AM: Where do you see (or where would you like to see) the cardiovascular/Cardiology research field 10 years from now?
MM: I would like to see further incorporation of artificial intelligence in both cardiology developments and trial designs. For years, we have been using the same computing methods to extract our results. Further incorporation of AI might simplify the process of leveraging big data and clinical trial design.
AM: Can you think of any collective initiatives that could support/speed up 'bench to bedside' research?
MM: An important initiative would be directed towards regulatory authorities to make the processes of conducting research easier while maintaining high standards for research subjects' safety. There is a lot of room to improve with that by getting rid of unnecessary paperwork and leveraging communication and cyber technologies improvements.
AM: What does it mean to you to be an Editorial Board Member for BMC Cardiovascular Disorders?
MM: It has been a great honour to serve as an editorial board member of BMC Cardiovascular disorders. With my particular academic interest in complex coronary interventions, my role as an Editorial Board Member helps me gain access to the newest research in the field. With the aid of excellent reviewers, it allows me to systematically appraise the soundness of research and the appropriateness of conclusions in relation to the data presented. Having that role has been an honor and a responsibility that I work hard to be up for.
AM: What is one piece of advice you would give to reviewers as an EBM overseeing peer review ?
MM: The reviewers I have worked with have been doing a great job in handling the manuscripts. The most extensive advice I would give is to accept reviewing a manuscript when you have specific expertise on the topic and the ability to appraise the methods and results presented critically. It is always ok to apologize and refuse to review if you think you will not help with the manuscript's handling or if there is any conflict of interest. Another critical point is to try to finalize your recommendations in time. We have all been in these situations where our paper's decision is delayed because of the one reviewer who did not complete his review. Please do not be that one.
AM: What is one piece of advice you would give to prospective authors ?
MM: It is essential to read your manuscript twice and thrice before hitting the submit button. Manuscripts go over a lot of iterations and edits from the coauthors, and something is always missed. One good final read before submitting is crucial and makes it easy for you and everyone else involved. I would also advise authors to try as much as possible to comply with the journal's guidelines, even the tiny details like word count or the abstracts' subheadings. It is a long process to go back and forth to fix these small details.
AM: What would you change in scientific publishing if you could?
MM: I would make the process more streamlined. Every journal has its set of rules, style, manuscript organization, and reference styles. It would be extremely helpful to authors, reviewers, and editors if journals can streamline their submission process, at least the initial submission. This can be achieved if a few journals of the same field decided to do it, and hopefully, other journals will eventually follow.
Another important point is to eliminate bias from the authors' scientific pedigree. Authors who are more respected in their fields tend to get their papers more accepted than their younger peers. This can be achieved by blinding the reviewers to the authors, performed successfully by many journals, but this practice needs to be more widely used.